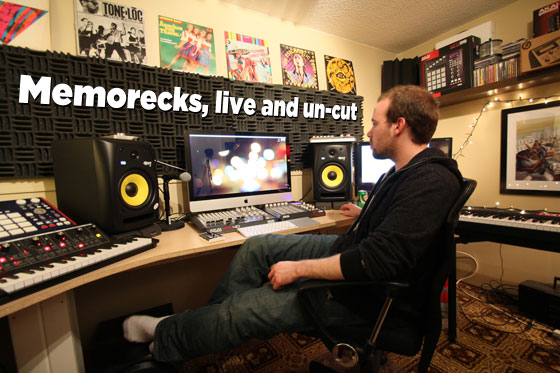 Several weeks ago I headed up to a desolate and remote suburb of the Greater Toronto Area to film a documentary on one of the hottest rising talents in 2012: James Peck, aka Memorecks. We showed up with two movie soundtracks – 2001, a Space Odyssey and Close Encounters of the Third Kind – on a USB drive, without having told Memorecks what we'd brought him, and filmed him making two beats.
Suffice it to say, the results are nothing short of amazing. To pull off a stunt like this you need more than just technical skills with computer software and interface devices. What really shines through in this video is the fact that, although he is a nerdy/techy dude who happens to be extremely knowledgeable about his toys, he is also an incredibly talented musician.
After the first of two incredible, improvised, impromptu beats he makes you get a sneak-peek in to a very exciting bass-music project that he has been working on, and learn a bit about the man behind the MPC.
This documentary is the product of over 50 hours of hard work, so it would mean a LOT to us (and Memorecks) if you would rate, comment, subscribe, and share.
Thank you so much, and most importantly, enjoy!
Peck has gained notoriety in the last two years on account of his talents with the MPC – a device which allows him to play and arrange samples on his computer. Imagine your mum's piano, but you can assign whatever you like to each key – a drum noise, your dog barking, or a slice of a rap vocal.
Two years ago, when Peck decided to focus on instrumental hip-hop he began posting videos on his (now, extremely popular) Youtube channel of him making full arrangements – songs – live on his MPC. Suffice it to say, he captured a lot of peoples' attention. Think
Now, a million video views on Memorecks is going to be venturing out of the studio in 2012, as he joins Zeds Dead, Omar Linx, Araabmuzik, Mat the Alien, and XI on a huge 80-date North American tour.
Goodies
In part of the footage not included in the video, Memorecks does a quick arrangement of the beat he had just made. He was kind enough to send it on as a treat for us!
[wpaudio text="Memorecks – An Out of This World Encounter" url="http://www.salacioussongs.com/files/Memorecks – An Out of This World Encounter.mp3″ dl="true"]