Every week we have a prolific crate-digger deliver a highly curated chart from a specific genre area. This week – Cal charts the LA electro-disco duo Oliver's ten greatest musical achievements.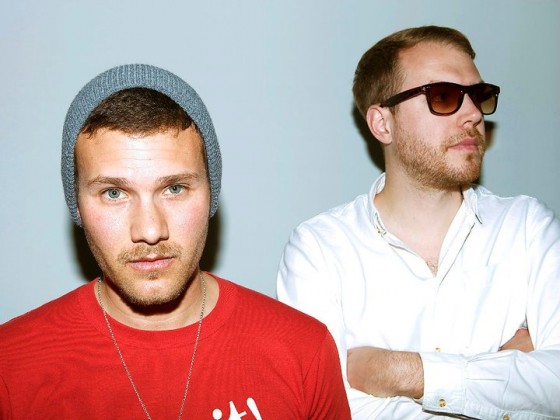 For the last couple months I've more or less retired electro house from my rotation. I haven't heard much of anything really innovative or fresh sounding in probably close to a year, and I am not sure whether to expect a surprise at this point or not.
I think a lot of artists composing original works are feeling the same as well. I've been noticing a resurgence of disco sounds, and there are plenty of great artists pushing forward and crossing over genres.
Meet Oliver "Oligee" Goldstein and Vaughn "U-Tern" Oliver, aka Oliver.
This extremely talented pair of musicians reside in LA, where they're making all kinds of disco x electro x pop sounds. Recently they've marked some major milestones, first and foremost of which is the top ten Beatport-charting with their track Dirty Talk, which has resided there for weeks and gained them international attention.
I suspect we'll be seeing lots more music from this pair this year, and I can't wait!
Oliver on Soundcloud | Facebook | Twitter
10. Chromeo – Hot Mess (Oliver Remix)
[wpaudio dl="true" text="Chromeo – Hot Mess (Oliver Remix)" url="http://www.salacioussongs.com/files/Chromeo – Hot Mess (Oliver Remix).mp3″]
9. Oliver – All Night
[wpaudio dl="true" text="Oliver – All Night" url="http://www.salacioussongs.com/files/Oliver – All Night.mp3″]
8. Penguin Prison – Fair Warning (Oliver Remix)
[wpaudio dl="true" text="Penguin Prison – Fair Warning (Oliver Remix)" url="http://www.salacioussongs.com/files/Penguin Prison – Fair Warning (Oliver Remix).mp3″]
7. Oliver – I Need You
[wpaudio dl="true" text="Oliver – I Need You" url="http://www.salacioussongs.com/files/Oliver – I Need You.mp3″]
6. Oliver – Footsteps
[wpaudio dl="true" text="Oliver – Footsteps" url="http://www.salacioussongs.com/files/Oliver – Footsteps.mp3″]
5. Sneaky Soundsystem – Big (Oliver Remix)
4. Housse De Racket – Roman (Oliver Remix)
[wpaudio dl="true" text="Housse De Racket – Roman (Oliver Remix)" url="http://www.salacioussongs.com/files/Housse De Racket – Roman (Oliver Remix).mp3″]
3. Oliver – Memories of the Future
2. Juan Atkins – Dayshift (Oliver's Nightshift Remix)
[wpaudio dl="true" text="Juan Atkins – Dayshift (Olivers Nightshift Remix)" url="http://www.salacioussongs.com/files/Juan Atkins – Dayshift (Olivers Nightshift Remix).mp3″]
1. Oliver – Dirty Talk