Every Saturday we feature a DJ mix that you absolutely need to hear. This week, Bro Safari's mix for Moombah+ radio caught our attention.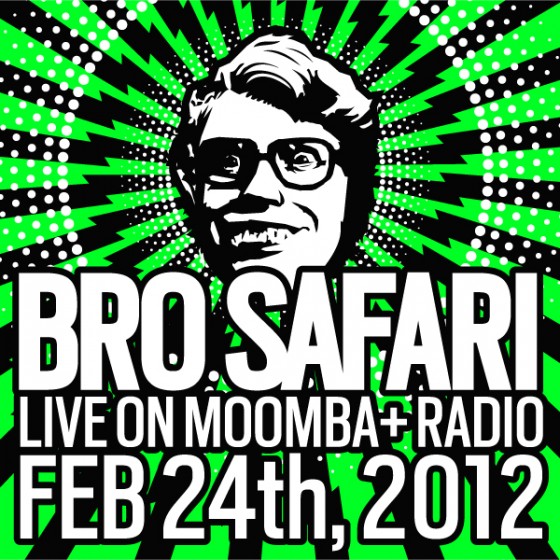 Though the name may be new to some, don't let it fool you – Nick Weiller aka Bro Safari is a bass veteran. For the last several years he's been 1/3 of drum & bass super group Evol Intent – also home to Ashley Jones, or Treasure Fingers as you may know him.
Bro Safari is not the second, but is in fact actually just one of four projects he has on the go at the moment. Says Weiller "I don't really find it that difficult… I'm able to do my part and then sign off until the next time. Not to mention, technology has made it so easy to share files. I'm literally almost never in the same room with someone else when I work on music."
Certainly though, Bro Safari may be the most exciting project for him at the moment. He's recently been swapping remixes with Codes and working suspiciously close with Torro Torro. Moreover, he has gotten looks from Diplo & Dillon Francis – his recent single Da Worm was released on Mad Decent imprint Jeffries.
Press the moombutton and speakers on blast.
01. Dooze Jackers – Why We Fwee (Torro Torro Remix)
02. Carrier – SlapBack
03. DFace – Stand Up
04. Bro Safari – 5150 (Codes Remix)
05. Will Bailey – Dancehall
06. Puga – Break
07. Bro Safari – Uncrushable (Jay Fay Remix)
08. Bro Safari – Da Worm
09. Valentino Khan – Flare Gun
10. Jay Fay – Bonkers
11. Bro Safari & ETC!ETC! – The Clap
12. Schlachthofbronx feat. Gnucci Banana – Coolie Fruit (Valentino Khan Remix)
13. Bro Safari & Sazon Booya – Quieres Sexo
14. DFace – Mad Man
15. Beauty Brain & Poisound – Bullfighter
16. Jay Fay – Mash It Up
17. Diplo feat. Nicky B – Express Yourself
18. Valentino Khan & Will Bailey – Ruckus
19. ETC!ETC! – Temblando
20. Dillon Francis & Dave Nada – Brazzer's Theme
21. Kuru, Dj Abstract & UFO! – Untitled
22. Mayhem – Player Hater
23. Nadastrom feat. Sabo – Dusted
24. Alvaro feat. Pitbull & Lil Jon – Fucking Ghetto
25. No Body – Munch On This
26. Feed Me – One Click Headshot
27. Nerd Rage – Goin To Compton
28. Bro Safari & LeDoom – Avalon
29. Valentino Khan – Talk Trash
30. McMash – Braindead
31. Sazon Booya & Must Die – Bombo Tiempo
32. LeDoom & Pickster One – Trunk Shaker
33. ETC!ETC! – Kilogram
34. Munchi – Fuck This
35. Will Bailey & Dskotek – Saxon
36. Uman – Cheap Thrills
37. Telmini – Climax (LeDoom Remix)
38. Muffler – Neurons (Gent x Jawns Remix)
39. Treasure Fingers – Rooftop Revival (Bro Safari Remix)