You can view the full gallery of photos from the Moombahton Massive here.
I'm sometimes faced with "as good as it gets" moments in live music performances, and it always leaves me with feelings of confusion, a touch of sadness, but also very deep satisfaction. Pretty standard stuff for a hedonist.
So, last night's Moombahton Massive SXSW 2012 showcase was what I expect will be the best event of my week down in Austin, and I still have two and a half days to go.
Like a really quality DJ set, the party was a mix of great performance by people I was expecting, some HUGE surprise sets, and an absolutely brilliant and absurd end to the evening with a live 5-piece act.
The evening started out comfortably, with a few dozen dancers on hand, winding away. I arrived just as Torro Torro was taking the stage, and was delighted to see the enthusiasm the crowd had for their tracks, new and old.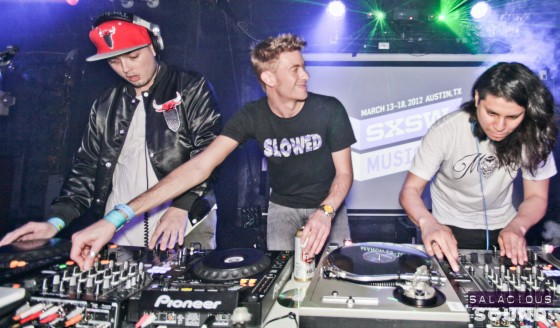 The first big surprise came when a colourfully dressed Toddla T took the stage, and dropped some serious dubby riddims. The most exciting part of his set was a moombahton edit of Sean Paul's Gimme the Light.
His extended set got the room REALLY fired up, and was testament to the fact that UK dub is really coming back in a big way.
Some time in the middle of the set, Diplo showed up and started setting up. Predictably, the crowd of 50, who were now clacking away on their cell phones, swelled to over 300 in a matter of 30 minutes.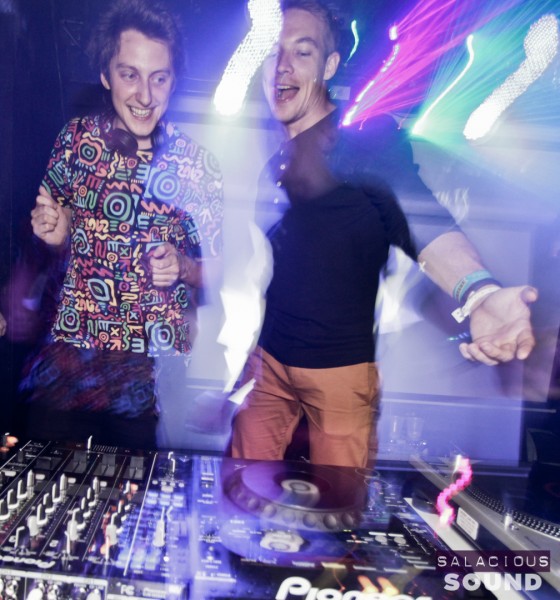 As a quick aside, one of the best parts about the energy of last night for me was the closeness of the musicians hanging out. A huge cast of people were there to support and perform, as well as engage in a rare opportunity to have all the boys in one place.
The exciting news was, Diplo wasn't just there to bro out – from intro to conclusion, he performed a set that utilized every last part of the mixer, radio drops and reggae horns, and an incredible selection of tracks. His tremendous skill was apparent in every aspect of his set, from the on-the-fly editing during masterful builds in to new songs, perfect timing, and crowd-energizing drops.
And that's only the half of it. Diplo back-to-backed with one of the finest A&R + producer/DJs in the business – a man off his own label, who has had a meteoric rise to fame in the last twelve months: Dillon Francis.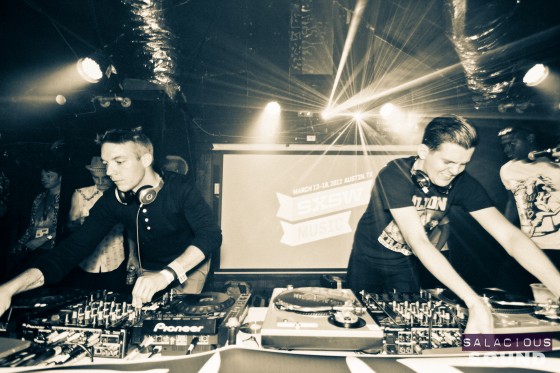 The real testament to Francis' success over the last year was the sheer number of tracks him and Diplo were able to incorporate in to their set which were collaborations of remixes by other artists that were in the building. His opening track, a new one I hadn't heard before, got the crowd really amped. But the highlight for me was when Diplo and DF dropped the Torro Torro remix of their collaboration with Maluca, Que Que.
And if that were all of it the party would have been a huge success, but the most exciting performance was about to take the stage.
When Diplo showed up, several characters were in tow which, broadly speaking, fit the extremely weird visual aesthetic of his label Mad Decent. Picture wild haircuts with shaved patterns and dye & booty shorts + fishnets, and you're getting warm.
The group is called Nicky Da B, and they had the crowd more riled up that any act I've seen in perhaps the past year.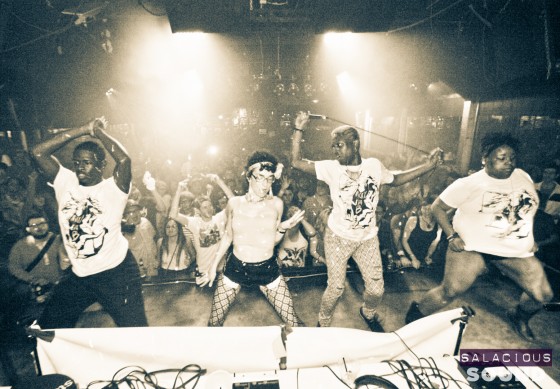 Every last detail about this show was tight. The vocalist was a great singer and amazing hype man. He was really interactive, and had everyone in the audience shouting out his call-and-responses.
The dancers were the real highlight though. I couldn't believe my eyes at the things the three of them could do. Every one of them were bouncing in and out of the splits, executing earthquake-grade booty-claps, as well as other antics too many to enumerate., but a highlight was when the they were bouncing in and out of the splits. Check the look on the crowd's faces.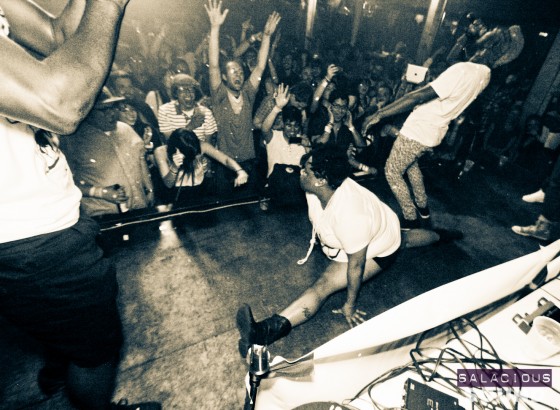 Opportunities for music discovery like this party, where I find something that I love and I discover that special something live for the first time is the best part about going to festivals like SXSW. So did my week really peak early? Maybe in a sense. But experiences like these are rare as they get, and besides, every time I've had to describe the ridiculous scene this party was to people I can't hold back the smiles. Moreover, I know that this is a memory I'm going to keep close for a very long time.