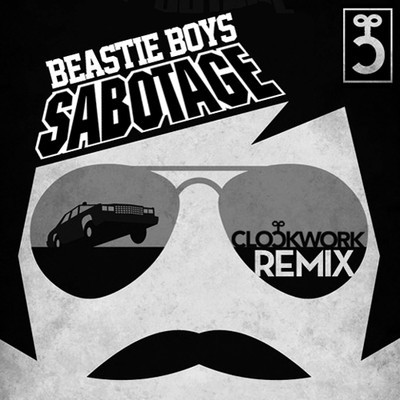 Clockwork, also known as Henry Steinway from NYC, most well known for his remix of Avicii's "Levels", in honor of his 21st Birthday has remixed the Beastie Boys. He choose one my favorite Beastie Boys songs "Sabotage", and executed the remix with great style.
Separate from the more electronic aspects of the track, he expertly mixes in the guitar riff intro of the original. The song starts off building up suspense, recycling a small sample of the guitar riff while accompanied with some basic snare and drum beats. Then further into the song he gradually introduces an earth-pounding bass line. I thought that at that moment that I was gonna hear the drop, but no – he does it again, building yet more suspense, using a another section of the guitar riff before providing relief.
[audio:Beastie Boys – Sabotoge (Clockwork 2012 Bootleg).mp3]
The drop is magnificent. He uses a beat that sounds akin to industrial strength springs being plucked by a sledgehammer. Recycling back and forth from the guitar riff, and even including some rapping from the original (a sin otherwise); I'd say this is one hell of a remix.
He does so much more with this track, that I would love to go into, but alas it's a 6 minute track, and I don't have the time.
[audio:Avicii – Levels (Clockwork Remix).mp3]
He also released an EP on Beatport a few months ago called "Breaker".
Here is a Minimix from his soundcloud:
Breaker EP Minimix- Clockwork by ClockworkMusic
And also hear is a note from Henry Himself:
What up world,
In light of all of these label pushbacks and delays, and because I turn 21 today, I'm in the giving mood and I figured you guys deserved a gift from me in the form of free music. I put a big room twist on one of my favorite Beastie Boys songs "Sabotoge," and ll you have to do is "like" my facebook page to access the free download!
Expect SO much new music from me in these coming months, including remixes for Steve Aoki, Mustard Pimp, Dimitri Vegas & Like Mike, collaborations with some of my personal favorite artists, and my LONG awaited Squad Up EP coming in March on Dim Mak. So for now, listen, download, share, and enjoy this bootleg, and get ready for a big year.
– Clockwork
(And here is a little diddy of mashup we did on him a while back, this song isn't even on his soundcloud)
[audio: Lil Wayne x Office Theme – Office Musik (Clockwork Edit).mp3]