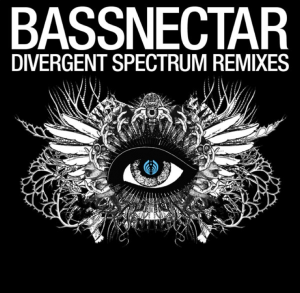 Bassnectar has been a staple in the North American dubstep scene for a few years now. Coming off of his 2011 album Divergent Spectrum comes the Divergent Spectrum Remix EP, featuring remixes by Steve Aoki, The Glitch Mob, Terravita, Beats Antique and Ill.Gates, plus an official release of Colour Storm. It's up for free download from the Bassnectar website.
Even if it's not the best remix on the EP, I think the Aoki remix on this release is one of the most important. It turns a bass-y track into an electro-house banger that you don't often hear coming from a direction anywhere remotely close to Bassnectar. Otherwise, my personal favourite is the Glitch Mob remix of Heads Up; it's got a great chiptune opening and an awesomely unique bass sound.
The entire album is available for download here.
Bassnectar – Heads Up (The Glitch Mob Remix) – Free DL by The Glitch Mob
[FREE DL] – Voodoo (ill.Gates + Bassnectar Remix) by ill.Gates
Bassnectar – Upside Down (Terravita and Bassnectar Remix) – FREE 320 DOWNLOAD! by TERRAVITA