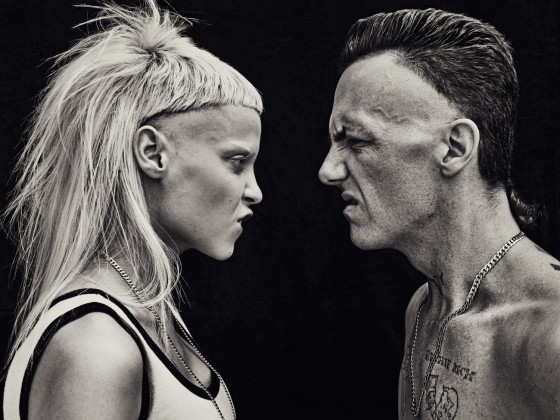 I find this whole news story to be much less surprising than the fact that Die Antwoord thought they could make it work with a major in the first place. Sounds like Interscope could use better A&R – they just lost one of the most exciting and innovative acts of the last two years, complete with raving-mad cult following and potential for massive tour earnings.
In a nut-shell, Die Antwoord was offered a generous guarantee from Interscope on their upcoming album (still in the works) TEN$ION, which would have been their second release on Interscope. All seemed well and good until label execs heard their first single, and asked them to rework the entire record for more pop appeal.
Obviously Ninja and Yo-Landi told them what they could do with their million dollar guarantee, and chose complete creative independence and a self-release on their indie imprint ZEF RECORDZ.
Quoting the band's online diary:
So anyway… Interscope offered us a bunch of money again to release our new album TEN$ION.

But this time, they also tried to get involved with our music, to try and make us sound like everyone else out there at the moment.

So we said: 'U know what, rather hang on to your money, buy yourself something nice…we gonna do our own thing. Bye bye'
The band now plans to release much of their music, including this their lead single Fok Julle Naaiers (loosely "fuck you, fuckers"), as digital downloads and additionally make music available on USB flash drives "Because CDs are like motherfucking VHS," quotes Ninja.
FOK JULLE NAAIERS from Die Antwoord on Vimeo.
Releasing this video was apparently not without its drama – when the band tried to upload it to Youtube they were blocked, with a warning that the copyright was owned by Interscope/UMG.
Finally, a report on this video from Yo-Landi tells; "It features the first rap verse by the real DJ HI-TEK, our gay deejay, who haz just bust out da closet wif a muddafuckn vengeance!"
Keep an eye out here on SalaciousSound for these upcoming free releases!