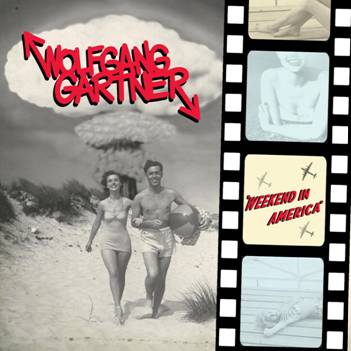 Wolfgang Gartner has released his debut album on September 20th 2011, after spending the last year crafting it during a busy tour schedule. The 11-song collection includes instrumental singles "Menage A Trois," which recently charted at #1 on the U.K.'s influential Cool Cuts electronic music chart; "Space Junk," a track I rinse in every set; and "Illmerica," with its engaging video that captures America's torrid 300-year history—including the American Revolution, the Underground Railroad, the assassination of Abraham Lincoln, Hiroshima and the Gulf War—in clip art-style animation.
Ménage à Trois PREVIEW by wolfganggartner
He also teamed with some of the most notable names in urban music for WEEKEND IN AMERICA. Eve raps on "Get Em," Dipset's Jim Jones and Cam'ron feature on "Circus Freaks," Omarion emerges on "Still My Baby," and will.i.am raps on "Forever." The "Forever" video from famed photographer and video director Nabil Elderkin (Kanye West, Frank Ocean) stars will.i.am as a club kid love-child, and looks beautiful.
Wolfgang Gartner and Ultra, in partnership with SPIN magazine and Beatport, are hosting a sweepstakes and sending a winner and guest for a Weekend In America. From now through October 14, fans can enter the sweepstakes at: http://www.wolfganggartner.com/sweepstakes. The winner, who will be chosen on October 15, will fly to Madison, WI on Friday October 28 to party at club Segredo where Wolfgang will be bringing his album tour, then fly the next day to Chicago, IL and be VIP at Wolfgang's show at the renowned Congress Theatre. The grand prize includes round-trip airfare, hotel, two tickets and VIP access to each show, ground transport to and from airport and venue, a year subscription to SPIN Magazine and a $100 credit at Beatport. The winner must be a citizen of the United States and over the age of 21.
The track listing for WOLFGANG GARTNER's WEEKEND IN AMERICA is:
Get Em (feat Eve)
Space Junk
Ménage À Trois
Circus Freaks (feat. Jim Jones & Cam'ron)
818
Forever (feat will.i.am)
The Way It Was
Shrunken Heads
Still My Baby (feat.Omarion)
Illmerica
The Champ
WOLFGANG GARTNER tour dates:
DATE CITY VENUE
Thu 10/6 Montreal, QC SAT
Fri 10/7 Raleigh, NC Raleigh Amphitheatre
Wed 10/12 Las Vegas, NV Surrender
Thu 10/13 Toronto, ON The Hoxton
Fri 10/14 New York, NY Webster Hall
Sat 10/15 Boulder, CO Boulder Theater
Fri 10/21 Los Angeles, CA Music Box
Sat 10/22 Los Angeles, CA Music Box
Fri 10/28 Madison, WI Segredo
Sat 10/29 Chicago, IL Congress Theater
Fri 11/11 Las Vegas, NV Surrender
Fri 11/25 Philadelphia, PA Electric Factory
Sat 11/26 Ft. Lauderdale, FL Revolution
Sat 12/31 Dallas, TX Lights All Night @ Dallas Convention Center
For more information, please visit:
www.wolfganggartner.com
www.facebook.com/djwolfganggartner
www.twitter.com/wolfganggartner