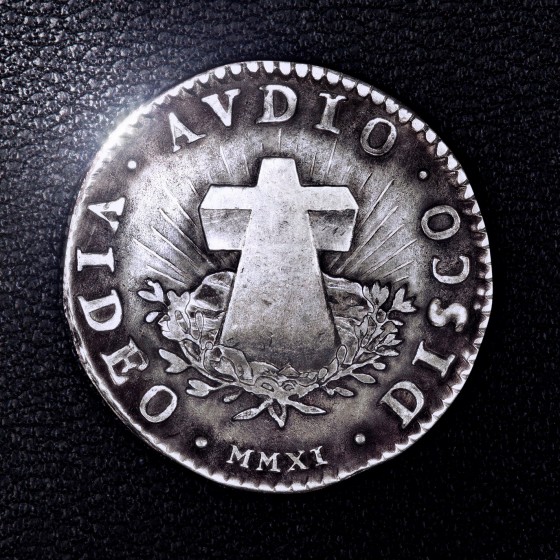 Justice has come back with a vengeance, and is on the cusp of one of this years most anticipated releases.  Ed Banger proprietor Busy P is certainly up living up to his role as hypeman for the effort, sharing 'Audio, Video, Disco' with the crowds of LA's Hard Summer party in August.  After Busy P played these tracks at various shows around the world, and issued a preview-reel soundcloud on his blog, The 'Audio, Video, Disco' EP has dropped, a month before the full album carrying the same name.
As previously covered, Justice is not your run of the mill electro act.  A group that in many ways paved the way for the contemporary Electro genre seems to have gotten more rock'n'roll.  While Civilization strongly alluded to The Who's 'Baba O'Riley', especially easy to hear in the Adidas ad edit, the track 'Audio, Video, Disco' takes their sound in a different direction.  The lead organ is less abrasive as was heard in 'Waters of Nazareth', and the track contains contrasts subtler than those in Cross.
In 'Helix', long time French-touch followers may be reminded of the original electric guitar riff-house crossover, Daft Punk's Aerodynamic.  Above the shredding, Justice adds in some fitting vocal samples for character, seemingly inspired by the production of label-mate SebastiAn.  While it plays heavier than 'Audio, Video, Disco', Helix somehow still listens easy.  Those who enjoyed the screeching strings of stress, or the violent distortion employed liberally throughout Cross will have to just wait and see if something filthier surfaces on the album.
Two 'Audio, Video, Disco' remixes also make it into the release.  Para One infuses acid-house and coked-out dutch-style bleep-bloop electro with the original for results that may be more palatable for some late night DJs.  Mickey Moonlight contributes as well, going for a simple bass guitar foundation underneath the catchy vocal hook, and building up into a more developed sound with electric guitar and crowd samples; it's an organic counterbalance to Para One's work.  Two adequate remixes, but unfortunately no Soulwax / Phantom pt. II caliber reworkings here kids.
The Audio, Video, Disco EP tells us a lot about Justice's new direction.  The tracks are in keeping with what Xavier has said about the new album, in that it's more daytime listening and less nighttime; more country and less city.  In their review of Justice's debut album Cross, Pitchfork described the sound as being like 'the caress of a sledgehammer'.  While it's impossible to tell what type of blunt instrument I'm being caressed with here, it's fair to say that it's a little lighter this time around.
The 'Audio, Video Disco' EP is available now on iTunes from Ed Banger Records.
Justice's full album, 'Audio, Video, Disco' drops October 25th.