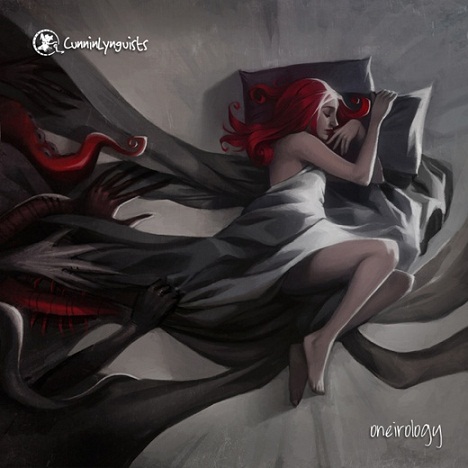 The thing I like most about southern rap trio the Cunninlynguists is their ability to switch it up while remaining relevant and, well, soothing to the ear. A lot of groups will 'switch it up' to a sound no one wants to hear. This isn't true at all for the southern back pack rap trio. While the sound is familiar to someone who is familiar with Kno's production, it is blatantly evident that it is continuing to evolve and improve.
'Oneirology' is their first full fledged release since 2007s 'Dirty Acres', and what has separated them from others in the past remains true on this album: the excellent quality of production from Kno. While it took this writer a few listens to get into it.. It still hasn't really stopped growing on me. The quality of every single track is exceptional. While the lyrics are nothing short of excellent, it really is the production that steals the show on almost every single track.
I'm not sure if this album would classify as a concept album or not, but the theme of dreams is consistent throughout the entire album in the song titles, lyrics, and interludes. Even the title is a reference to dreams… The Oneiroi were deities in Greek mythology that personified the individual parts that make up dreams such as night and sleep.
My recommendation to you involves accessing the best sound system you can find, and giving this album a listen yourself from the beginning to the end. In my opinion a vast improvement over 'Dirty Acres', 'Oneirology' has me falling in love with Cunninlynguists all over again.
Visit the Cunninlynguists
Preview the entire album on the Cunninlynguists bandcamp page, and make sure to cop it there – they get a way bigger share than if you buy it on iTunes!
[audio:Cunninlynguists – Stars Shine Brightest ft. Rick Warren.mp3]