I've been a fan of Martin Solveig's work ever since I went to Ibiza in 2007.. his tunes were just about everywhere you went that summer. A funny anecdote: those same tunes were everywhere you went on Malta summer 2008! Here's some inspiration for the remix competition (details below).
[audio:Martin Solveig and Dragonette – Hello (Dada Life Remix).mp3]
Anyway, I had a couple people get at me today about Martin – he's doing a North American tour it seems, and he also has some other cool stuff going on. I wanted to share some info about his show in NYC on Friday, Toronto on Sunday (4 free tickets to give away to this one), and his remix competition for the collabo with Dragonette 'Hello'.
First thing's first, hit me up with a comment if you want free tickets to his show Sunday Feb 20th 2011 in Toronto. Make sure to fill in the email field properly so I can get at you.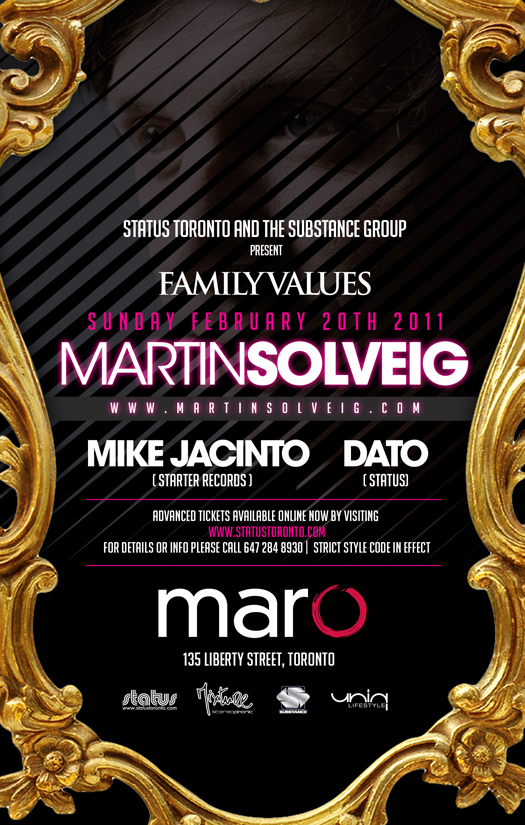 Next, he is spinning Friday Feb 18th 2011 in NYC at LAVO. Be sure to check him out if you're in the hood!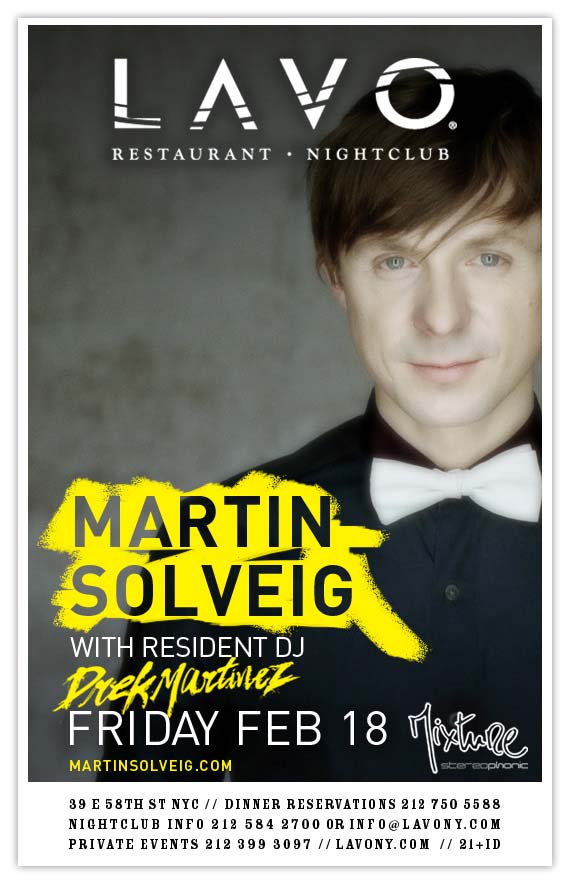 Martin Solveig Announces 'Hello' Remix Competition
Official stages
1. February 15th – March 7th: Download phase – The remix parts of "Hello" will be available to download until the voting round. The stems are bundled for purchase at $1.99 USD.
2. February 22nd – March 7th:  Upload/Submission phase – Upload your remix towww.beatportal.com/remix. During this phase the entries can be listened to, but not voted for.
3. March 8th – March 22nd: Voting phase – The public votes for their favorite remixes by "spinning" them.
Final Rounds And Prizes:
Martin Solveig and his team will choose 3 winning remixes to be announced April 5th, 2011, and the public will select the fourth winner on Beatportal. The first place winner will receive a grand prize package of:
1 – Digital release on Mixture
1 – Native Instruments Maschine
1 – Novation SL MKII 61 keys + Novation Launchpad
1 – Arturia Bundle V-Collection + Analog Laboratory
1 – FXpansion Geist and DCAM Synth Squad
1 – Ohmforce ALL ALL bundle
1 – Online Course from the Point Blank Music School
1 – $200 Beatport pre-paid card
1 – Big Beat T-Shirt
1 – 1 year subscription to Future Music Magazine
The second place runner up will receive:
1 – Digital release on Mixture
1 – Native Instruments Audio 2 DJ + Traktor Duo
1 – Novation Launchpad + Novation Dicer
1 – Arturia Analog Laboratory
1 – FXpansion Geist or DCAM Synth Squad
1 – Ohmforce Ohmicide / Quad Frohmage filter bank
1 – Big Beat T-Shirt
The third place runner up will receive:
1 – Digital release on Mixture
1 – Novation Launchpad
1 – Arturia Analog Laboratory
1 – FXpansion Geist or DCAM Synth Squad
1 – Ohmforce Ohmicide
1 – Big Beat T-Shirt