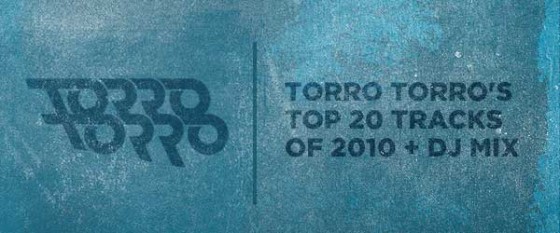 Over the next seven days, SalaciousSound will publish a series comprised of dozens of articles chronicling the best electronic music that 2010 had to offer, across all genres.
You can view the whole series by clicking the category link above '2010 in Review Series', and you can also view every post ever written on SalaciousSound about the artists mentioned herein by clicking on the artists' links at the bottom of the post.
If you like this type of music, you should also try clicking the genre tags at the top of the post, so you can find more.
I hope you all enjoyed and were inspired by electronic music in 2010 as much as I was. It was a special year!
This is the eighth article in the series, and is a favourites list by none other than Toronto's finest electro Production / DJ duo Torro Torro. The pair have had an amazing 2010, earning several major accolades including charting in the Beatport top 10, and a resume of gigs with it-list artists too long to mention. They've also kindly put together their favourites for Salacious Sound in one easy-to-consume DJ mix package – what can I say.. living across the street from huge international musicians has its perks!
Here's a quick personal message the guys wanted me to pass on to you, as well as a sneak-peek of their as-yet-to-be-released remix for and being played by Kill the Noise, just this past NYE.
Torro Torro are hitting 2k11 hard. Look out for their new single, "Blue Blouse" coming February on T&A Records with remixes from Johnny Love, DJ Ayres, Zombies for Money and More. Also in the first quarter expect to hear a number of remix releases, including: AC Slater, Johnny Love, Kill The Noise, and Riviera. Torro Torro's remix of Kill The Noise – My World will be available soon on Slow Roast/Fools Gold. It was also recently featured on Hogcast #5 and Designer Drugs – DATAMIX12. And their remix of AC Slater will be available in a forthcoming Party Like Us – 2 Yr. Anniversary Compilation.
[audio:Torro Torro – 2010 Year End Mix.mp3]
MEGA MASH TRACKLIST/COMMENTARY
1. Torro Torro – Super Sharp Intro – A 2010 Fall favourite at our shows. Welcome 2011.
2. JFK & St. Mandrew – Face Pump (Congorock Remix) – Big year for Congo, Inaugural For Teenage Riot.
3. TAI – Paradise Poltergeist (LA Riots Remix) – Warning. But you already knew.
4. AutoErotique – Bubonic (Original) – Milestone Year
5. Bart B More – Brap (Original) –
6. Carte Blanche – Gare De Nord – One of many
7. Boy 8 Bit – Yard Birds (Original Mix) – Big year for Turbo
8. Steve Angello – KNAS (Original Mix) – Guilty
9. Bobby Burns & Afrojack – Real High (Original) – Bring the team… Bobby Burns
10. Riva Starr – Dance Me feat. Trim (Oliver $ Remix) – Off A Large EP
11. Gooffee – Flow (Torro Torro Remix) – Hold Up!
12. Zombies For Money – Surumba (Caribe Version) – Torro Torro – Zombies for Money Remix Coming Soon
13. Jan Driver – Tellyfoam (Original) – Sound
14. Mosca – Square One VIP – House Party RnB
15. Art Department – Without You – Toronto Anthem Gone World Anthem
16. Homework – I Got One (You're It) – The Full EP
17. Deuces – Instrumental – Peace 2010.
18. Justin Martin, Ardalan – Mr. Spock (Original Mix) – That Kush
19. Magnetic Man Ft. Katy B. – Perfect Stranger (BengaRemix) – Magnets to number 1s
20. Jacques Greene – Holdin' On – Break out year for the Montrealer