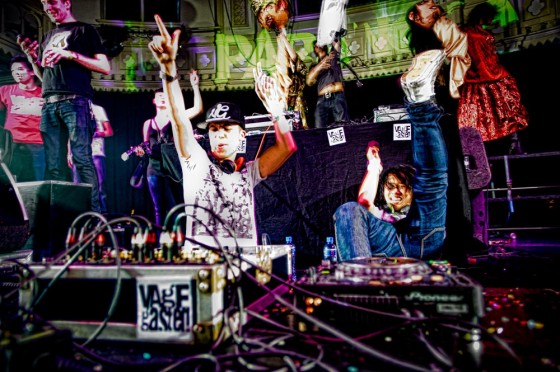 MIGHTYFOOLS are FINALLY coming to Toronto this weekend (Saturday, December 11th) playing Phantogram's Official Afterparty at WRONGBAR!
The two party-boys will be playing alongside The JACKALS and Smithfits DJs making for a long late night of thumping beats and sweaty dancing! To help pump Toronto up for the show Mightyfools are also offering up a free mixtape featuring: Uffie, Asser, Swedish House Mafia, and more (please refer to link below)
Here are five fun facts that you should know about the MIGHTYFOOLS:
-The duo is made up of Andy Samin and Jelle Keizer who met each other for the first time in an empty club.
-Mightyfools's Partyjunkies EP turned heads internationally in 2008 and went straight to the charts on all major digital music outlets.
-Possessing a gift to craft infectious songs that keep people dancing, Mightyfools have remixed top class artists like: Crookers and Tommie Sunshine while also gaining attention from Laidback Luke, Kissy Sellout, Bloody Beetroots, Diplo and Switch.
-Their sensational performances have already brought them to popular club nights and venues like Rauw Amsterdam, Social Club Paris, parties for Vice Magazine, Club Woda Mexico, and Club Beta in Denver (the home of Beatport).
-In 2009 Mightyfools performed at the biggest festivals in Holland, including Dance Valley and Mystery Land. Soon after they took off to the land of OZ (Australia, not to see the wizard…),
for a massive club tour, followed by a US club tour landing them at the legendary Dim-Mak Tuesday Night in Hollywood.
So if you still can't gather what to expect this Saturday, I'll spell it out for you: Music that will set the dance floor on fire, crowd surfing party kids, and the rare chance of witnessing this hyperactive duo blend their records together like nobody's business.
Shouts out to the fine folks at The MuseBox, holding it down and bringing some hype to another soon-to-be bangin' party!
Mightyfools has several dates in NY and ON over the next several days – you can check their full tour schedule out here.
[audio:Mightyfools – Go USA Again 2010 Mix.mp3]
01. Surkin – Fan Out (Lightyear Remix)
02. Shake Aletti – Dancefloor (Tom Staar Remix)
03. Mightyfools – Super Summer
04. Uffie – Mcs can kiss (Far Too Loud Refix) [Mightyfools edit ur Edit]
05. Vandalism – Throw Your Hands Up (Angger Dimas Remix)
06. Swedish House Mafia – Miami 2 Ibiza
07. Canblaster – Chicken Run
08. Chuckie & Hardwell ft Ambush – Move It 2 The Drum
09. Etienne De Crecy – Hope (Djedjotronic Remix)
10. TAI ft Steve Aoki – Paradise Poltergeist (LA Riots Remix)
11. Mightyfools – Tonight
12. Mumbai Science – Gold
13. The Subs & Les Petits Pilous – Rototom
14. MBG & SBS – New Jack (Steve Angello Remix)
15. Asser – Evil (Figure vs Space Laces Remix)
16. Digitalism – Blitz