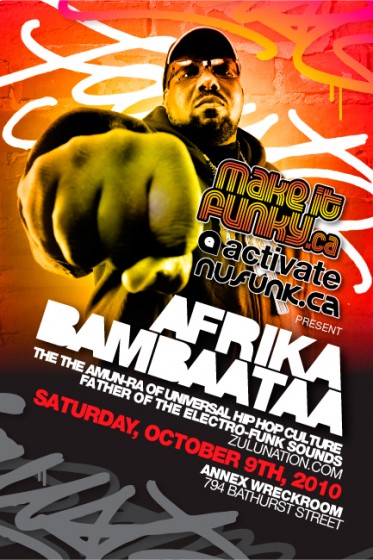 We wrote an extremely high quality series a while back called The History of Electro, which included an article on Afrika Bambaataa – if you'd like to read about how Bam factors in to the development of Electro, check out the series here.
During Bambaataa's early years, he was a founding member of the Bronx River Projects-area street gang, The Savage Seven. Due to the explosive growth of the gang, it later became known as the Black Spades, and he rose to the position of Division Leader. After a life-changing visit to Africa, he changed his name to Afrika Bambaataa Aasim. Bambaataa was influenced by the depiction of the Zulu warriors attacking British troops at Rorke's Drift in the Michael Caine film Zulu.
After the visit, Bambaataa decided to use his leadership to turn those involved in the gang life into something more positive to the community. This began the development of The Organization, which soon later became known as the Zulu Nation, a group of racially and politically aware rappers, B-boys, graffiti artists and other people involved in hip hop culture that gained fame in the early eighties to mid nineties. By 1977, inspired by DJ Kool Herc, Bambaataa had begun organizing block parties all around the South Bronx, and he was soon renowned as one of the best DJs in the business. In 1980, he produced Soul Sonic Force's landmark single, "Zulu Nation Throwdown".
In 1982, Bambaataa organized the very first European hip hop tour. Along with himself were rapper and graffiti artist Rammellzee, Zulu Nation DJ Grand Mixer DXT (formerly Grand Mixer D.St), B-boy and B-girl crews the Rock Steady Crew, and the Double Dutch Girls, as well as legendary graffiti artists Fab 5 Freddy, Phase 2, Futura 2000, and Dondi.
Also in 1982, Bambaataa became a solo artist (having produced several other singles) and released "Jazzy Sensation" on Tommy Boy Records in that year. "Planet Rock", a popular single, came out that June under the name Afrika Bambaataa and the Soulsonic Force. The song melded electronic hip hop beats with the main melody from Kraftwerk's "Trans-Europe Express", as well as portions from records by Ennio Morricone and Captain Sky – thus creating a new style of music altogether, electro funk. It influenced many styles of electronic and dance music, e.g. freestyle music, house music and techno music. In 1984, Bambaataa recorded "Unity" with James Brown and released "World Destruction" under the name Time Zone (with John Lydon, better known as Johnny Rotten). Shango Funk Theology, a full length album, came out under the name Shango. This was followed by "Funk You" in 1985 and then his formal full album debut, Beware (The Funk Is Everywhere).
Tickets can be purchased here.
Free Ticket Giveaway:
The first two people to tweet this message will score free tickets to the show on Saturday:
Stoked to see the Godfather of Hip Hop Culture, Afrika Bambaataa, this Saturday via @salacioussound http://bit.ly/cH5bfP