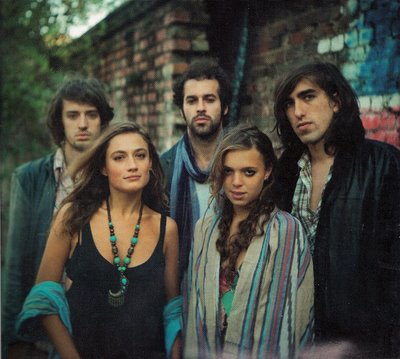 Get excited, niños, the release of Crystal Fighters' new album Star of Love is set for October 4th. You've already heard electro tracks Xtatic Truth and the 80 Kidz remix of I Love London to have you thoroughly wanton for more, but it wasn't until the latest tracks, Follow/Swallow that you were salivating while waiting for this day, September 20th. 'Follow' brings you a different sound, a fast beat folk like track that makes you want to close your eyes in the middle of a forest and dance your heart out as soothing guitar fuses with electro beats and a multitude of voices to make something beautiful and fun. Swallow, is a more dub step sound but also a track that folks have been putting their pirating skills in overdrive trying to get their hands on. Patience, amigos, we're almost there.
You may think you have a pretty good idea of what to expect from Star of Love, based on the handful of tracks we've heard but I think we're in for a surprise. Not only will we have party beats begging to be remixed, but also a couple of oddballs that sound more like a mix between Arcade Fire and Dan Deacon's Wham City with some Spanish flare. Don't believe me? Check out this exclusive track, At Home, which is exactly that.
Crystal Fighters – At Home by salacioussound
Crystal Fighters – Follow by salacioussound
Written by Felicia Moursalien
For more on rockin' out around the world, check out my Guide for the Poor, Hip and Cool: Lil'Fel Rocks the World.