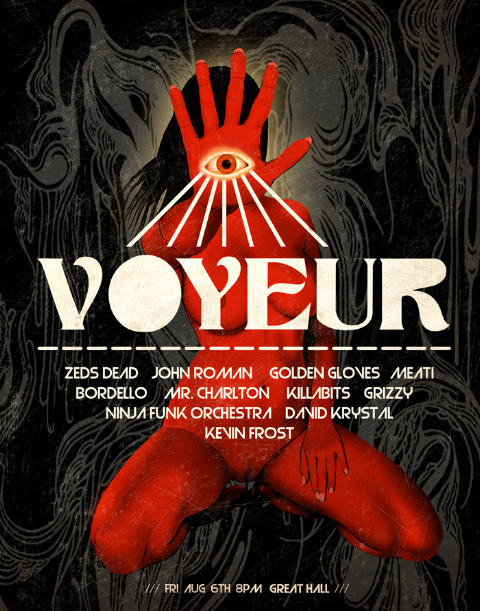 Last year at the end of the summer Cody LeKush and I presented an event called Voyeur. It was  a showcase of unique Toronto talent that we believed would have an impact on how Toronto's music scene was perceived over the next year. The bill included Azari and III, Violca (now Riviera), Mr Charlton, Y.Pro (now Meati) and DJ Cal.
In the past year, all 5 of these artists have all grown in many different ways. Azari and III have become a voice for Toronto's underground dance scene. Violca's transformation into Riviera has taken her career in a deeper direction, including remixes for major artists like Benny Benassi. Mr. Charlton and Meati have gone from opening artists to headlining players at some of Toronto's most sought after venues. DJ Cal's dedication to uncovering new artists has become even more vigorous as most of our loyal readers know.
This year we have decided to up the ante. The showcase will feature 3 live acts, 4 DJ sets and a mixed medium art/artisan exhibit.
Voyeur – LIVE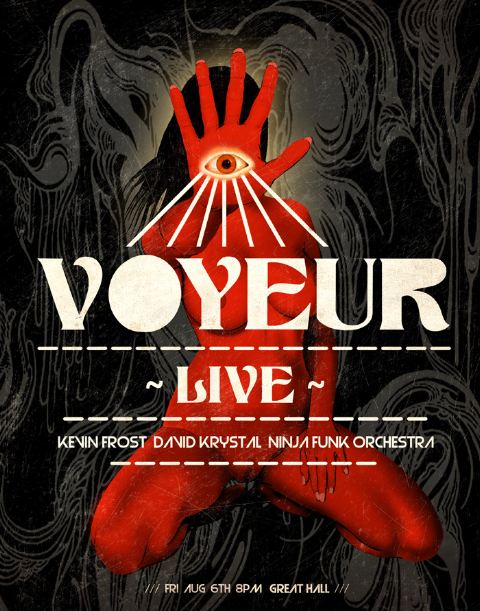 From 8pm-11pm Voyeur will showcase some amazing LIVE talents. Kevin Frost will open the night with an acoustic set that is sure to please and warm-up just right, followed by the David Krystal Band (MySpace),  who just released a moving album that proves the groups maturity, and shows why each member has been involved in the world of music for the last 40 years.
Finally, headlining Voyeur LIVE will be Ninja Funk Orchestra (Website), who have played all over Toronto at some of the cities coolest live venues. This Jazz-funk-soul-hip-hop-dope-rock orchestra simply cannot be defined, nor can their talent be denied. One of my personal favorites in Toronto and beyond, and without a doubt an act built around pure love for music, these guys are going somewhere faster than you can say "Ninja Funk Orchestra".
-Cody LeKush
Voyeur – ELECTRONIQUE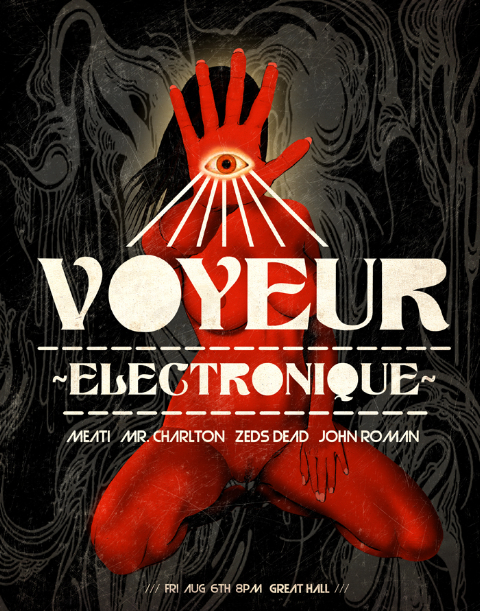 From 11pm-2:30am Voyeur will showcase some of the cities brightest electronic stars, with a focus on DJs and Dancing. A chance for Torontonians to dance to all different styles of electronic music, provided by some of the best representatives of each genre. Meati (MySpace), formerly Y.Pro, will open the electronic stage with his own personal blend of deep house, tribal, and techno sounds. After proving last year at Voyeur I that his live sets are not a thing to be fucked with, i am very much looking forward to seeing what he brings to the table this year. Following him will be Mr. Charlton.  Simply put, Mr. Charlton will floor you. He is every knowledgeable-girl's favourite local DJ, and for good reason. They all love him, because he sets the bar higher than the rest, redefining the standard for good local acts to follow. He plays everything, and does it all flawlessly, transitioning between genres like a chameleon to colours, with a genuine maturity and sense of style that most could only hope to have. Charlton is a true crowd-pleaser in every sense, and he has a big year ahead of him.
Next on the electronic stage is Zeds Dead(MySpace)o. This dynamic duo is not to be fucked with. They are blowing up globally, pushing their unique blend of mesmerizing melodies and booming bass-lines to the world. They toured the UK in June, and this upcoming year, they will be seen all over the globe. Catch them in Toronto while you still can. Following Zeds Dead and closing out the night we have the always talented John Roman(MySpace). Roman has proven himself to be one of the most respected and sought after up-and-coming-producers in the world. His tracks are blogged about everywhere, from France to Berlin and back to Canada, as soon as they drop. Having received support from global superstars such as Boys Noize, Erol Alkan, Neoteric, and Nadastrom (to name only a few), there is no telling how far this young gun might go.
In the Conversation room, we will be showcasing some of the city's youngest and most talented artists, jewelery-designers, and clothing-designers. Here, you will have a chance to check out their works on display, and to purchase anything that catches your fancy.
From T-shirts to full on canvas paintings in all mediums, this room will be a special addition to the night and will go far to showing what this city really is about. Voyeur ART in the conversation room will be provided by each of the following young talents:
– Cody Lekush
"¢ Katherine Hui (http://www.foeanddear.com/)
"¢ Darryl Graham
"¢ Sara Shields http://sarashields.com/
"¢ Zeds Dead x Callum Gillies (aka No0ne)
"¢ Brick Wall
"¢ PluggedNotThugged (http://pluggednotthugged.com/)
"¢ Stefanie Pocklington
"¢ Meygan D'Angelo
"¢ Ninja Funk Orchestra (http://www.ninjafunkorchestra.com/)
"¢ Robbie Jodha
"¢ Scott Lee
"¢ Matt Adam (http://www.pardonledopeness.com/)
"¢ Michael Boatman
"¢ Chris Speck
"¢ Martina Zanetti (wollstoneCRAFT)
"¢ Jona Fran (Jonathan Frandisco)
"¢ Jake MacDougall (Del Ray & Company)
"¢Taylor Swan (http://viceandvirtueapparel.com/)
[audio:Golden Gloves and John Roman – Huh.mp3,Blue Foundation – Eyes On Fire (Zeds Dead Remix).mp3,Massive Attack – Paradise Circus (Zeds Dead Remix).mp3]