There were a few ways to begin this review: some good, some bad, but none quite right. So let's begin with just the facts.
Kid Without Radio is a netlabel, notably featuring underground electronic artists such as Egadz and Edison.
Battery Collection is the newest artist on Kid Without Radio and his debut LP is titled Future Ruins.
Bottom line: Future Ruins is worth your attention if you dig minimalism and you're willing to forgive its rough edges.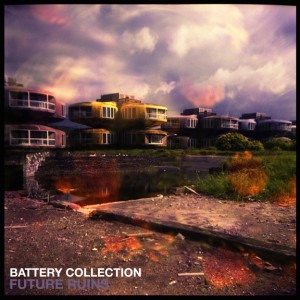 What kind of profound cultural impact, if any, electronic music has had in the last three decades is an odd question. After all, it's the music of nightlife, of temporary fits of passion, and of none-too-discrete eloping. It's a genre of music that's defined more by hedonism than it is by introspection.
And to be fair, it rarely attempts to be anything else. It's a sound that's not only comfortable with being up at 4 A.M. and having a half-bottle of Jack to go, but fundamentally embraces it. That's why electronic artists rarely have to consider the consequences of selling out – there isn't much pretense in the first place.
Perhaps that's why artists who push the structural boundaries of the genre are often in welcome supply. They break hooks down to their barest essentials, and then add back only what's absolutely necessary. They generally do not receive wide acclaim, but their sound is nonetheless a welcome respite of creativity. Battery Collection is one of those artists.
His debut, Future Ruins, is the kind of electronic music which exposes the great possibility of emotive range in the genre. It breathes a kind of intimacy in the synth that's made possible only because of his rejection of typical production techniques. The Kid Without Radio presser claims, almost unbelievably, that "everything is performed live. No sequencing. No samples. No track warping."
Old Heroes, Missing Friends is pipe full of summer optimism, and is easily the best track on the LP. That's a good thing too, because it also happens to be one of two tracks that are remixed by Edison and Egadz, respectively (Unauthorized Biography being the other).
This isn't a release without flaws. It's purposefully rough, and that's not something we're accustomed to listening to these days. It's also very easy to mistake its minimalism for an unsophisticated sound.
But Future Ruins seems less about ultra-polished production values than it is about exploring the limits of electronic music, and of creating a unique, penetrating sound.
You can purchase Future Ruins at www.kidwithoutradio.com
Battery Collection – A Mild Case of Scoliosis by Kid Without Radio
Battery Collection – Back in the Saddle by Kid Without Radio
Battery Collection – Old Heroes, Missing Friends (Edison's Lonely Remix) by Kid Without Radio
Battery Collection – Unauthorized Autobiography (Egadz's Blown Ear Drum Remix) by Kid Without Radio