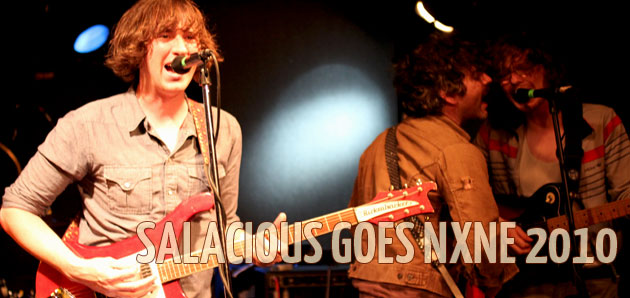 Last night I attended the CBC Radio 2 NXNE showcase at The Rivoli on Queen. We got there pretty early, and beat what turned out to be a huge crowd that packed the small back room on the main floor of the Rivoli – at no later than 10pm the venue had reached capacity and few were admitted for the next couple hours. In short, the attendees' expectations were met or exceeded.
In depth coverage, including a video of a full song by show-stealing band Zeus, follows.
Chris Velan – 1st Act, 9pm – 10pm
Chris is a singer-songwriter who did most of his show by himself, with only his guitar, a mic, and an array of foot pedals for effects and for live sampling. The most enjoyable parts of his show for me were when he would play 4-8 bars, sample it, and loop it using his pedals, providing percussion and backing rhythm for his folksy rock.
[nggallery id=103]
Zeus – 2nd Act, 10pm – 11pm
Zeus on MySpace Music
At around 10pm, a band called Zeus was about to take the stage. Anticipation was really high by this point, and the venue was totally full from front to back. I hadn't heard of Zeus before, but it seemed everyone in the crowd had, and was there to see them. My own anticipation was further heightened by parallels drawn, calling them "The Beatles of Canada" by a fan I spoke with for a while.
For me, Zeus represents some kind of combination of the best parts of an 80s hair metal band and a really intense version of the Arctic Monkeys. Their set was high energy from the get go, and simply, if you weren't a pleased fan by the end of the show, you were a new fan.
[nggallery id=104]
Zeus Performing Renegade – make sure to turn up the resolution if your monitor supports HD!
Buck 65 – 3rd Act, 11pm – 12pm
Buck 65 took the stage after Zeus, with some fanfare and circumstance. A ton of support showed up for him, and I was soon informed that he is in fact the host of CBC Radio 2 Drive, a daily afternoon show. The mixed crowd were familiar with his catchy and clever lyrics, and his stage personality (for me, the focal point of his set) a lot.
[nggallery id=105]
Buck 65's Song Wicked and Weird
Grand Analog – Headliner, 12pm – Late
There were actually two acts after midnight, but I only had the pleasure of seeing the one. Grand Analog, my main interest in the showcase, took the stage over at midnight and totally flipped the vibe. They took the stage with horns, drums, a DJ who emceed some songs, keys, a bassist, and main vocals. Together, Grand Analog represents a fusion of conscious hip-hop and reggae, with jazz sensibilities, all tied together by one of the most incredible, energetic, and charismatic front-mans I've had the pleasure of watching. Odario completely lit up the audience with his personality, and smooth, soulful lyrical delivery.
[nggallery id=106]