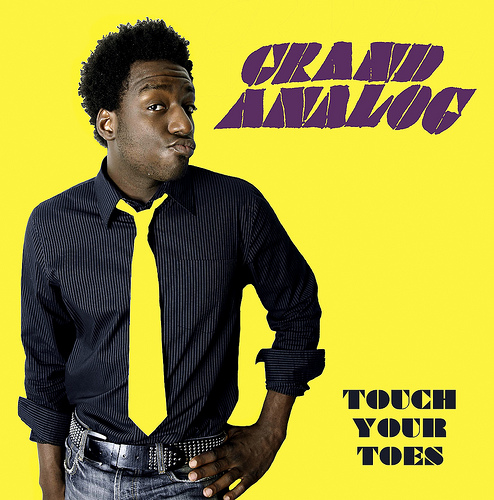 Grand Analog is a raw collective created in 2006. Its members are seasoned record collectors, musicians and self described beat junkies from around the way. You can easily find each of these characters honing the role of DJ at various local pubs and clubs in Toronto or Winnipeg. Band leader and creator, Odario Williams, describes the Grand Analog sound as a beautiful mess of rap'n'roll, dub and soul.
"Grand Analog is unbalanced and dirty; never clean. Grand Analog is fuzzy with three coats of dust and reads like an old manual no longer in use". Calligraffiti, the debut album, has an array of soundscapes you can travel through: 'Touch Your Toes' boasts James Brown style drums, rock guitar and a New Orleans style horn break. 'Around This Town' can only be described as a ska-pop-hip-hop joint.
The new album titled "Metropolis Is Burning" keeps these traditions alive by fine tuning what is now the Grand Analog sound. Singles include 'Her Daddy (Don't Like Me)' – a southern style romp that meets old school hip-hop, 'I Play My Kazoo' and the soulful 'Stir Crazy' featuring Martin Perna of Antibalas (also sax player on TV On the Radio's latest disc). Other guests include Canadian rap favourites Shad, Cadence Weapon and Len Bowen. Metropolis Is Burning is available in Canada and online May 26, 2009.
Each character in Grand Analog brings something unique to the table. Odario and DJ Ofield blame their father, a reggae DJ from the 80s, for cursing them with the love of music, bass and trouble. Catalist on keyboards was also born into a musical family inheriting a few dusty analog keys for the lab (Arp Odyssey, Mini Korg K2, Sequential Circuits Six Trak, Roland Jupitor 6 among others). Warren Bray has a punk funk history and is now appointed GA's doctor of bass. Damon Mitchell brings his guitar savvy into the recording process. Other contributing musicians include Klaverkamp, and Darcy Ataman.
Grand Analog's retro heart and restless feet create an extensive touring schedule. The live show adds soul to the bloodline along with infrequent stage jams and off the wall tactics. Both Calligraffiti and the live performance itself are critically acclaimed. Over the last two years Grand Analog have already left their mark in prestigious showcases and festivals such as NXNE, SXSW, JunoFest, CMW, NMW plus various Jazz and Folk Festivals nationwide. Grand Analog fiends on tackling any stage presented to them, any place any time…no matter the genre. Metropolis Is Burning!
ELECTRIC CITY is definitely a definition of the funk Grand Analog is known for throwing down. While the raw guitars and organ battle for supremacy, Odario Williams and special guest Shad lay down golden era style rhymes over drums reminiscent of Hip-Hop in '95. From the forthcoming LP, 'Metropolis Is Burning', available on URBNET Records on Tuesday, May 26, 2009.
 
[audio:Grand Analog – Electric City (featuring Shad).mp3]