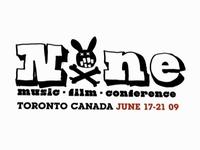 (Click image for SalaciousSound NXNE contest Facebook event)
Since North By North East is happening this week, we thought we would put together a little preview of the week and offer some contests to get people into some shows for free. All of the contest information is available through our NXNE Facebook event which is tied to our own Facebook group and Fan Page. Make sure to join so you can take part in some pretty rad contests for this week.
Wednesday @ The Drake 10-4AM:
Woodhands, Lioness, The D'urbervilles, Famous Players and more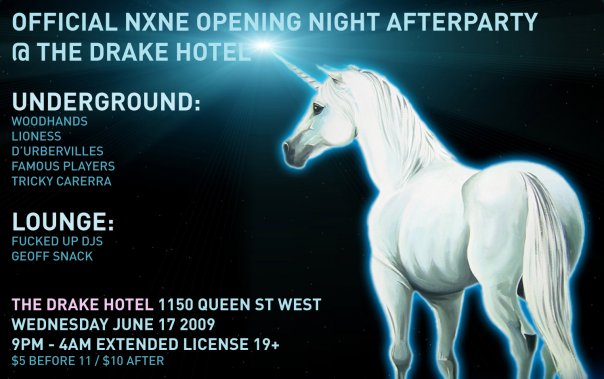 An awesome line up to start off NXNE. Definitely looking forward to this one. I expect nothing less that a stellar party that rocks into the wee hours of the morning.
Thursday Evening @ The Social 10 – 4 AM last call:
Bird Peterson w/ St Mandrew, Andy Ares, Kay Gee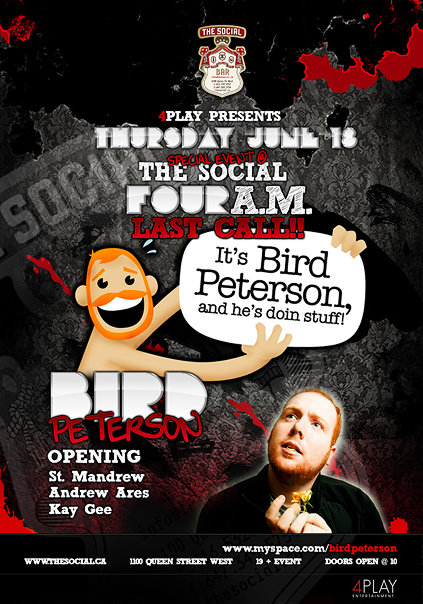 (Click image for Facebook Event)
If you didn't know who your favorite DJ's Favorite DJ is, well now you know. Bird Peterson Has been a steady force in electronic music. Ask anyone of Violca (from Mansion), Nasty Nav, JFK, St Mandrew, Andy Ares, Kay Gee etc. etc. etc. about Bird Peterson and they will tell you BIRD IS THE WORD!  Having collaborated with MSTRKRFT and released records on Nasty Mix it is a great pleasure to welcome him to his first show in Toronto @ The Social. Supported by a strong group of local acts: kay Gee, Andy Ares, and St Mandrew. There are limited advance pre-sale tickets available and this one is going to go all the way until 4 AM. Pay Special attention to Zutopong which was deemed the "song of Coachella 09′ " and come hear the man live in the flesh.
Friday @ Circa w/ Barbi and Meech 9:30 – 2AM:
DJ Klever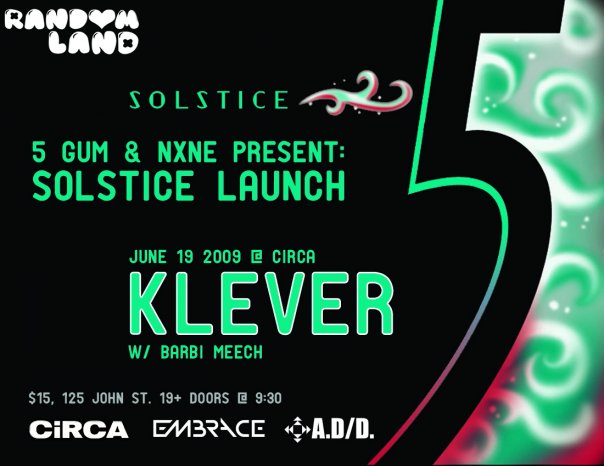 (Click image for Facebook Event)
DJ Klever is one of the best turntablists I've seen perform live. His show at West Lounge was one of those nights that people are still giving me a hard time for missing. Once a runner up for the World DMC Chapionchip, Klever is one of the best dudes in the world playing electronic music. A lot of people compare him to A-Trak, and many people argue that Klever is better when making that comparison. Supported by DJ Barbi who has recently performed at DEMF and thrown a whild bash for the launch of her Intelligenix label; with Meech opening up the night.
Friday @ The Drake 10-4am last call:
YYZ Records NXNE Showcase featuring TMDP, Madrid, Kidstreet and others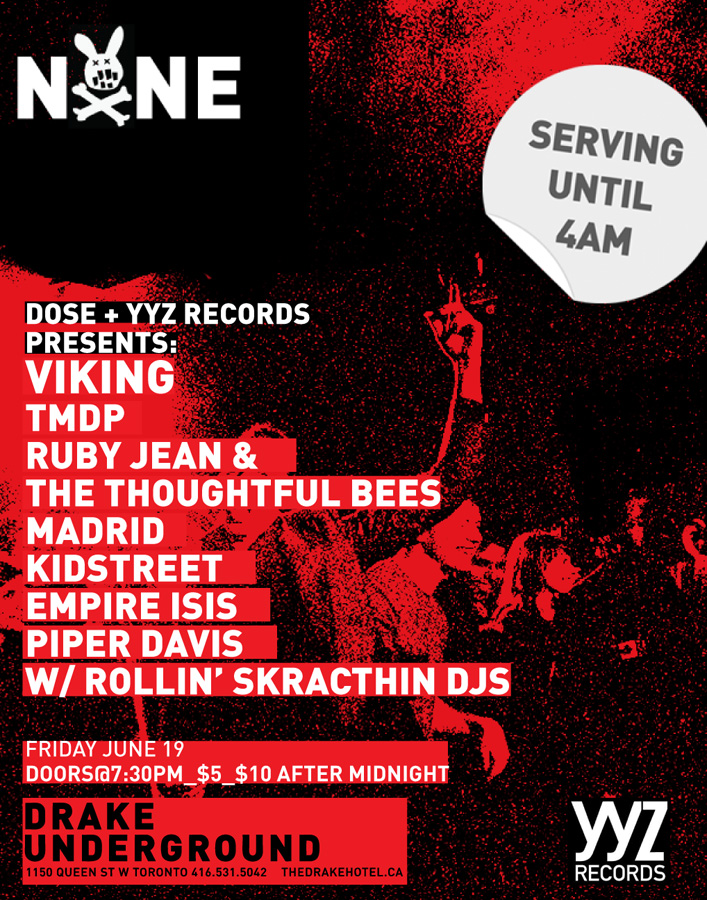 With a special appearance by blog sensation Viking who will be making their only Canadian stop for this show!
Saturday Afternoon @ NXPO DayStage (Hyatt Regency) 3 PM:
Grand Analog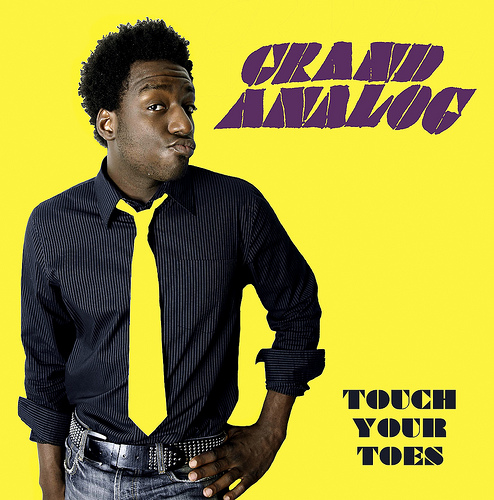 See our previous feature on Grand Analog. We will be interviewing them @ their show at the Hyatt
Saturday @ Wrongbar 10- 4 AM last call:
Fake Blood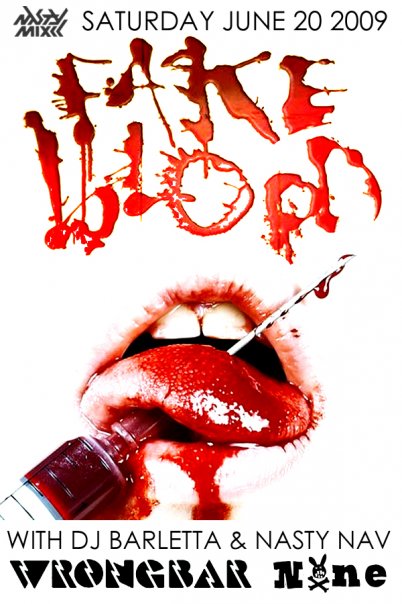 (Click image for Facebook Event)
The reasons to go see Fake Blood are relatively self explanatory. One of the most celebrated electronic artists on the blogosphere there are just some parties that you KNOW will force you to let loose and move all night. Hopefully it doesn't turn into the Surkin or Busy P show with everyone trying to dance around the DJ. But regardless you know the music will be amazing and if you look to the left and see someone losing their mind, its probably me. Especially try to find me when Little Boots – Stuck on Repeat or Hot Chip – Touch to Much drops.
Sunday @ Yonge and Dudas Square 3-10 PM
Ninjasonik, Candy Coated Killahz, Gza, The Cool Kids And Many More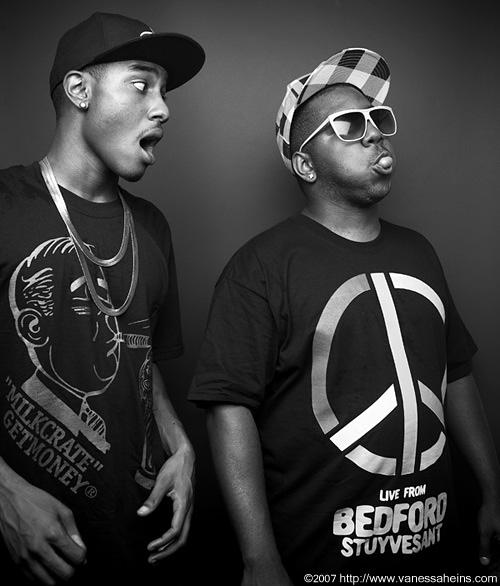 Probably one of the best free Hip Hop lineups you could ask for. I am a huge Cool Kid fan and rocking the stage with the legendary Gza only makes it that much more enticing.
Sunday @ Circa 10-2am:
DJ Sets by Lights, K-OS, Lil Jaz, George Petit Of Alexisonfire, Elcair Of Bedouin Soundclash, Rob Dyer S4C And Many More @ Circa 10 – 2Am.
Hosted by SalaciousSound!
SalaciouSound is very pleased to announce that they will be helping to host the MMVA After Party @Â  Circa The 1000+ capacity main room will be open to the public and features DJ sets by LIGHTS, K-OS & L'il Jax, George Petit of Alexisonfire, Eon Sinclaire of Bedouin Soundclash, Tim And Dave of The Stills, and Skate For Cancer's Rob Dyer.
[audio:Grand Analog – Electric City (featuring Shad).mp3,Bird Peterson – The Essence.mp3,Bird Peterson – Zutopong.mp3,Klever – Kryptobounce.mp3,MSTRKRFT – It Aint Love (Bird Peterson Remix JFK Edit).mp3,Barletta Feat Klever – Klever Tuff as Nails.mp3,Kidstreet – X.mp3,TMDP – Glades.mp3,Kid Cudi – Dat New New (VIKING REMIX).mp3,Fake Blood – Mars (Original Mix).mp3,Armand Van Helden – I Want Your Soul (Fake Blood Remix).mp3,Hot Chip – Touch Too Much (Fake Blood Remix).mp3,Little Boots – Stuck on Repeat (Fake Blood Remix).mp3,Flak Attack – Smash Gasolina (Fake Blood vs Vandalism).mp3,Sinden and the Count of Monte Cristal – Beeper (Fake Blood Remix).mp3,Unkle – Restless (Fake Blood Mix).mp3,Miike Snow – Animal (Fake Blood Remix).mp3,The Cool Kids – 88 (Chewy Chocolate Cookies Remix).mp3,The Cool Kids – A Little Bit Cooler.mp3,The Cool Kids – One Two.mp3,K-Os – Uptown Girl.mp3,K-Os – rise like the sun.mp3,Bedouin Soundclash – Criminal.mp3,Bedouin Soundclash – When The Night Feels My Song.mp3]