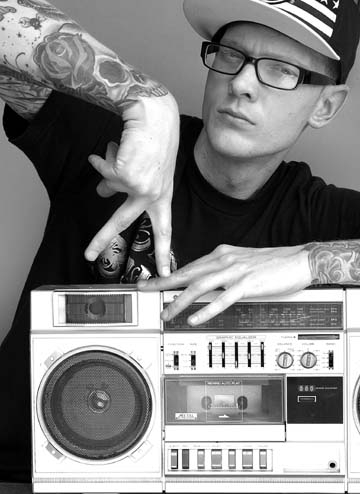 So Monarch and I have been pretty busy so far during NXNE. Â Wednesday we attended the Lioness/Woodhands show at The Drake Hotel, Thursday was Bird Peterson, and yesterday we had a pretty jammin night. Â We started off at our friend cBot's gallery opening downtown where we had a chance to say hello to Klever before we watched him own the decks at Circa. Â To all the people who reminded me last night 'omg of course, he's a DMC champ' – I was just impressed/am easily excited. Â Also spinning last night was Meech, and DJ Barbi who I had never seen before. Â Let me know when you're playing again Barbi – I will definitely come listen!
Yesterday we also had the opportunity to interview TMDP and catch a bit of their live show. Â I guess because I'm in the genre and business it's perhaps biased for me to say that these guys are live performing artists, but just like the guitar these guys improvise, freestyle, and its similarly easy for them to fuck up and train wreck as it is an acoustic instrument player.
Let me know what you guys think of this electronic performing art stuff. Â Legit? Â Fakery?
Some tracks I'm really in to right now:
[audio:The Streets – Blinded By The Lights (Nero Remix).mp3,Major Boys – Pan America (Danny Freakazoid Remix).mp3,Deadmau5 – Bye Friend (Original Mix).mp3]