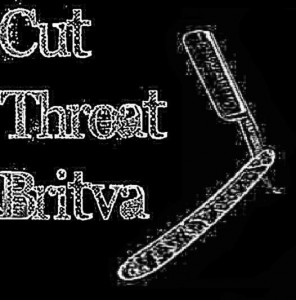 One of the local groups that will be gracing the stage at NXNE is Cut Throat Britva. Shunning the synth, this up and coming Toronto group keeps it raw with a four piece band and an old school grunge sound. While this one and a half year old band might be new to the world, they're cutting their teeth on some pretty impressive tracks.
After I pushed play on "Soleless", the first track off their self-titled EP, my first thought was "Shit, this guy can sing" which of course lead to my second, more cynical thought, "I wonder if the rest of the band can keep up…" Well, my cynicism was mostly misplaced. Cut Throat Britva puts out solid hard rock. While it's true that vocalist Caleb Timmermans can wail, Eddie Fiore and Matt Wiesblatt are strong on drums and bass respectively, and Zaddi Pesino on lead guitar is clearly a very strong technical musician, articulating the music to take it beyond the common garage band distortion. The only thing I can blame this band for is inconsistency. The second track "violator" is pretty good, but the vocals were a letdown after the strong opening on "Soleless". "Pink pills" is a great headbanging tune, and the band tries out a different sound on "Wanted More", which isn't a bad song at all. It's just a little less Big Wreck, and a little more Bush x.
Cut Throat Britva plays the Velvet Underground on June 19th, and has their CD release scheduled for July 10th at Sneaky Dees.