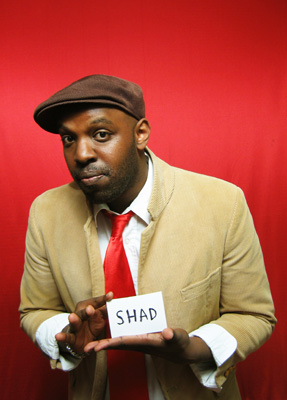 Shadrach Kabango stepped onto the Canadian music scene when he took first at 91.5 FM's (London, ON) annual Rhythm of the Future unsigned talent competition in 2004. He then put the prize money into recording his inaugural album "When This is Over" while completing an Honors Bachelor of Business Administration degree at Wilfrid Laurier University.
When This is Over earned Shad much respect with its witty, intelligent and quality rhymes. Shad toured the album, selling out shows in Toronto and London, playing for campuses across the country and opening for the likes of Common, Lupe Fiasco and Classified.
Shad made sure not to disappoint with his followup album The Old Prince, which received a Juno Nod for Best Rap Recording in 2008. The man stays busy – he headlined for the Vans Warped Tour last year and hopes to release his next album in May. For more info on Shad check his website here.
[audio:Shad – New School Leaders.mp3]