This article is part five in a thirteen part series, on the artists from the Rhymesayers Entertainment label.  Rhymesayers Entertainment recently won URB Magazine's Best Label of the Decade. The rappers covered in the series include BK-One, Atmosphere, Mr. Dibbs, Abstract Rude, Freeway, Grieves, Toki Wright, Eyedea & Abilities, Jake One, P.O.S, Evidence, Felt, and Brother Ali.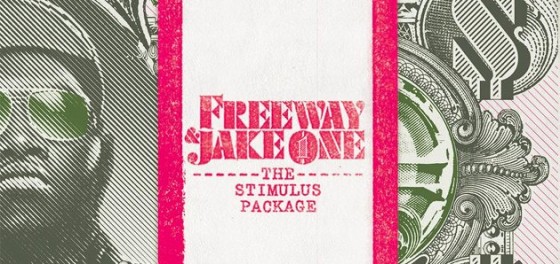 Freeway is a man in high demand these days. Â He has incredible talent, and a host of powerful friends in the production world. Â He's worked with everyone from Jay-Z, Cool & Dre, and released his most recent album The Stimulus Package with the talent of former G-Unit producer Jake One backing the tracks. Â The album, released just two months ago, is a tremendous step forward for Freeway and Jake One, and another fantastic release for Rhymesayers. Â Its approach to examining ghetto life in North Philly is unique in its subtlety, for someone so experienced and oft hated on. Â Despite Freeway's career having been fraught by setbacks, most notably his former State Property group member Beanie Sigel's incarceration, he has been working hard since 2008. Â In December, he created a mixtape called Month of Madness, which featured 32 tracks over 31 days, featuring input from Erick Sermon and Jake One. Â In 2009 he released yet more bootlegs, mixtapes, and singles, and signed with both Rhymesayers and Cash Money, and released a mixtape in November in anticipation of The Stimulus Package.
Freeway sets out to stimulate the Hip Hop industry by signing into law the Hip Hop Recovery and Reinvestment Act with the release of The Stimulus Package. Produced entirely by veteran G-Unit producer Jake One, The Stimulus Package showcases some of Freeway's most dynamic and engaging work to date. Since his breakout Roc-A-Fella debut Philadelphia Freeway in 2003, which achieved gold status, Freeway has been regarded as "your favorite rapper's favorite rapper".
Freeway & Jake One have BIG things coming this year. Â On May 30th, in Skakopee, MN, Freeway will be playing with a host of the most talented hip hop artists in the world, at a huge outdoor festival called Soundset:
Soundset '10: Soundset, Freeway, Jake One, P.O.S, Eyedea & Abilities, Brother Ali, BK-One, Grieves, Toki Wright, Atmosphere w/ Method Man & Redman, Hieroglyphics, Souls of Mischief, Casual & Pep Love, Murs, Cage, Wiz Khalifa, Busdriver, DJ Rob Swift, People Under The Stairs, Themselves, Yelawolf, DJ Revolution, Fashawn, 45 King, Dessa, Solillaquists of Sound, Cecil Otter, Dark Time Sunshine, Prof & Rahzwell, A.R.M., Ernest Rhodes, Ice Rod, Mike Dreams, I.B.E., Plain Ole Bill, Mike 2600, Kid Cut Up, DJ Anton
11 AM, All Ages, $35/$75, get tickets | festival site
Check out Freeway on his twitter, and check his Rhymesayers profile to preview the rest of the album, or cop it here.
[wpaudio dl="0″ text="Freeway and Jake One – Sho Nuff Ft. Bun B" url="http://www.salacioussongs.com/files/Freeway and Jake One – Sho Nuff Ft. Bun B.mp3″]