This article is part three in an thirteen part series, on the artists from the Rhymesayers Entertainment label.  Rhymesayers Entertainment recently won URB Magazine's Best Label of the Decade. The rappers covered in the series include BK-One, Atmosphere, Mr. Dibbs, Abstract Rude, Freeway, Grieves, Toki Wright, Eyedea & Abilities, Jake One, P.O.S, Evidence, Felt, and Brother Ali.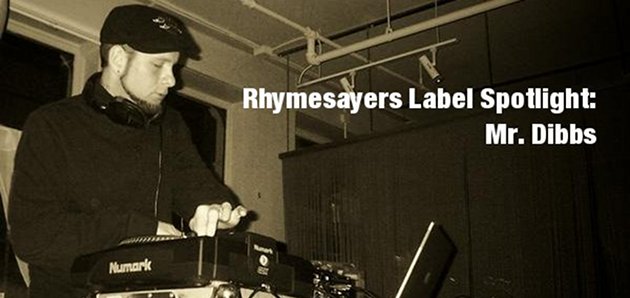 Born in Cincinnati, Ohio, Brad Forste – better known as Mr. Dibbs – was introduced to hip hop in 1985 when he saw Grandmaster Flash performing on television. In 1996, Dibbs teamed up with graffiti magazine Scribble to put on the first Scribble Jam event as a promotion for the magazine's launch. The event has since become America's largest hip hop festival with seperate competitions for rapping, DJing, graffiti, b-boying and beatboxing. Past participants have included names such as Eminem, Big Daddy Kane, Masta Ace, Juice, Prince Paul, Hi-Tek, Sage Francis, El-P, Atmosphere, Buck 65 and Mr. Dibbs himself.
He subsequently formed his own turntablist crew, the 1200 Hobos in the early 90's, and began making mixtapes. The crew's rotating line-up included the likes of Buck 65, DJ Abilities, DJ Signify, Doseone, Sixtoo and many others, and at its peak the crew held 23 members.In addition to the 1200 Hobos, Dibbs has been on many underground hip hop albums as the producer or DJ and has released a number of solo works. Â His "Turntable Hardcore" series of releases stands out with it's genre-straddling approach, blending a wide variety of styles. Though Dibbs is probably most known as the on-off touring DJ for Atmosphere, he was never an official member. After releasing his album 'The 30th Song' on Rhymesayers in 2003, Mr. Dibbs founded his own label Self Core Records, and is now the tour DJ for rapper El-P.
This is a track off Dibbs' 1995 2 track tape 'Turntable Scientifics':
Dibbs has also produced a lot of stuff appearing on skate videos, and even in Tony Hawk video game soundtracks. Â This one's called Skin Therapy: