This article is part four in an thirteen part series, on the artists from the Rhymesayers Entertainment label.  Rhymesayers Entertainment recently won URB Magazine's Best Label of the Decade. The rappers covered in the series include BK-One, Atmosphere, Mr. Dibbs, Abstract Rude, Freeway, Grieves, Toki Wright, Eyedea & Abilities, Jake One, P.O.S, Evidence, Felt, and Brother Ali.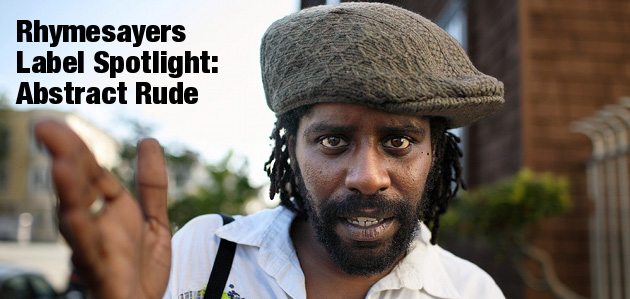 Of all his monikers, Aaron Jones Pointer is most commonly known as Abstract Rude. Coming up as an mc in the early 90s LA area Ab had the chance to work with many different artists including the Freestyle Fellowship, Aceyalone, and to co-found Project Blowed, a freestlye collective and an open mic workshop for youth. Originally performing open mic at the Good Life cafe (also home to Jurassic 5 and Aceyalone) Ab developed into a soulful rapper with a multitude of flows and style. Abstract Rude promoted artistic creativity and honesty from a scene dominated by gangster rap. He is currently a member of his own group Abstract Tribe Unique, the trio Haiku D'etat (Ab, Mikah 9 of the freestyle fellowship, Aceyalone), and the A-Team with Aceyalone. He is also one of the most recent additions to the Rhymesayers Entertainment team.
Releasing many different works in collaboration and touring with many different international artists (DJ Vadim, Taktloss, Rob the Viking) consistently throughout the years has cemented Abstract Rude in hip hop history. From eclectic and complex freestyles with the Project Blowed Crew, to soulful and jazzy breaks with Haiku D'etat, Ab proves the diversity of his music.
In the past recording under prominent labels such as Battle Axe and Grand Royal Records, Abstract Rude has now released Rejuvenation under Rhymesayers Entertainment. This album showcases his unique and diverse lyrical style. If you are a fan of lyricism and hip hop, do yourself a favour and check this artist out. Be warned though, If you're biting while he's rhyme writing, be prepared to fight Mike Tyson.
Show him love on Myspace.
Cop Abbey Rizzle's latest CD 'Rejuvenation' at Fifth Element Online, or on iTunes.
Showcased on the NBA2k5 soundtrack, Abstract Rude's track 'All Day'…
[audio:Abstract Rude – All Day.mp3]
From his work with Haiku D'etat, the single 'Built 2 Last'
[audio:Haiku D Etat – Built 2 Last.mp3]
and his first single from Rejuvenation, 'Thynk Eye Can'
[audio:Abstract Rude – Thynk Eye Can (Haiku D Etat Mix).mp3]