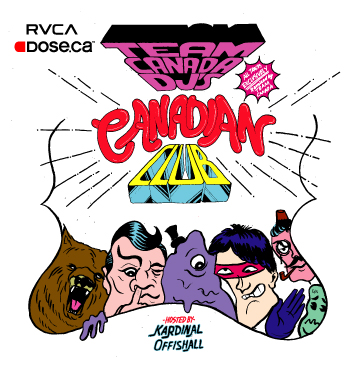 I've been following the Team Canada DJs for quite a while now, as well as a related project called the Eh! Team DJs. The duo formed up about 5 years ago, and have had one release so far called "Classic Material 1". To be succinct, the 2004 album was ridiculously fucking good, and I don't know why these guys took so long to follow up with something similar. Classic Material is all mashup, all the time. It has all of the song recognition appeal without the manic switch-ups of Girl Talk. It takes old classics by the likes of Sinatra and Pink Floyd, and throws down a fat bass line a la The Clipse, or nasty Biggie vocals. I've included a few songs at the end for you to check out.
Now, more to the point, these guys have finally released a follow up album. It's called Canadian Club, the release date is October 20, 2009, and the guys are on a major promotional tour right now to hype it up. It has a couple awesome mashups in similar style to Classic Material (Music Sounds Better With You), top notch edits (Rebel Rebel), and a couple of INCREDIBLE remixes of Kardinal Offishall and Drake.
Peep the tracklist:
01 AMERICAN WOMAN INTRO
02 SET IT OFF (TEAM CANADA REMIX) – KARDINAL OFFISHALL FT. CLIPSE
03 BEST I EVER HAD (GRANDTHEFT REMIX) – DRAKE
04 SHAKE (GRANDTHEFT BLEND) – GREEN VELVET / YIN YANG TWINS
05 YOU REALLY GOT ME (DR ONE CLUB MIX) – THE KINKS
06 REBEL REBEL (GRANDTHEFT EDIT) – DAVID BOWIE
07 AHEAD BY A CENTURY (DR ONE EDIT) – THE TRAGICALLY HIP
08 BY THE WAY (GRANDTHEFT EPIC REMIX) – RED HOT CHILLI PEPPERS
09 FULL CLUB – GRANDTHEFT
10 WHATEVER U LIKE (GT EDIT) – NICOLE SCHERZINGER & T.I.
11 WHATCHULIKE (GRANDTHEFT REMIX) – KARDINAL OFFISHALL
12 DON'T STOP TIL YOU GET ENOUGH (GT 2009 REWORK) – MICHAEL JACKSON
13 MAKES ME WONDER (TEAM CANADA REMIX) – MAROON 5
14 GET UP – GRANDTHEFT
15 MUSIC SOUNDS BETTER WITH YOU (GRANDTHEFT EDIT) – STARDUST / SNAP
16 GIVE IT UP (GRANDTHEFT ACID BLEND) – PHARELL / MAURICE
17 HEAVEN IS A PLACE ON EARTH (GRANDTHEFT EDIT) – BELINDA CARLISLE
18 SIPPIN ON SIZZURP (DR ONE REMIX) – THREE 6 MAFIA / COLDPLAY
19 BLUE ORCHID (GRANDTHEFT JUKE EDIT) – WHITE STRIPES
20 BORN TO BE WILD (GT PARTY EDIT) – STEPPENWOLF
21 C'MON AND RIDE IT (CRAZYTRAIN EDIT) – QUAD CITY DJS / OZZY
22 ROCKIN' IN THE FREE WORLD (GRANDTHEFT REMIX) – NEIL YOUNG
Now the last thing I have to say about these two is they know how to throw a party. If you live in the east, then unfortunately you're out of luck for the next little while, as their 30+ date tour has already blown through. But if you live in Toronto or the west then you are in luck. This Toronto will be one of the biggest dates of their tour, because they will be playing at the Barletta EP release party at Wrongbar. If these guys are coming to your town, grab some friends and go see them – you won't regret it.
10 October – Toronto, ON – GT @ Wrongbar 4 Barletta's WHISPER EP Release
15 October – Edmonton, AB – Red Bull Tour DR @ Oil City w/ KNK + L&E + Hedspin
16 October – Calgary, AB – Red Bull Tour DR @ Flames Central w/ KNK + L&E + Hedspin
16 October – Guelph, ON – MTV Lovefest Tour GT in Guelph
17 October – Lethbridge, AB – Red Bull Tour TC @ Roadhouse w/ KNK + L&E
18 October – Banff, AB – Red Bull Tour @ Aurora w/ L&E + KNK
21 October – Victoria, BC – Red Bull Tour TC @ Element w/ KNK + L&E
22 October – Vancouver, BC – Red Bull Tour TC @ Roxy w/ KNK + L&E
23 October – Vancouver, BC – TC @ Fortune Soundbar
24 October – Kelowna, BC – Red Bull Tour TC @ Gotcha w/ KNK + L&E
25 October – Surrey, BC – Red Bull Tour TC @ Mirage w/ KNK + L&E
30 October – Halifax, HS – GT @ Palace
[audio:Kardinal Offishall Ft. Clipse – Set It Off (Team Canada Remix).mp3,Frank Sinatra – My Way (Clipse Remix).mp3,Johnny Cash – Ring of Fire (Black Rob and Obie Trice Remix).mp3,Ben E. King – Stand By Me (RZA and Ice Cube Remix).mp3]