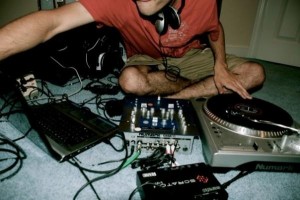 No, it's not.  But in terms of style, technical ability of the producer, tightness of the mix, range of song selection, and just straight overall quality there are few differences.
DJ Skarface is a turntablist from Tennesse with an impressive ability to mash-up rock, rap, crunk, and electro.  At times the mix is a bit manic, which is most peoples' main complaint about Girl Talk.  It also includes quite a few lulls in transition (? which may be intended to delineate tracks), but regardless it is an absolutely worthwhile listen.
Cheers,
Cal
(Here's what Skarface had to say)
After recently discovering Salacious Sound (which is a wonderful website) through an article you posted about Ableton live, I had to send my mix here to show you yet another example of what can be done with Ableton. Much like Girl Talk, this is a Mash-Up mix. Although not quite as technical it captures Girl Talk's idea but with my own flavor. I utilized close to 100 artists including;
Aerosmith, Audio Two, Beastie Boys, The Bee Gees, Berlin, Big L, Bloodhound Gang, Bobby Valentino, Boogie Down Productions, Gogol Bordello, Boston, James Brown, Buju Banton, Busta Rhymes, Kim Carnes, The Clash, Clipse, Coolio, Crime Mob, Cymande, D-Styles, Daft Punk, Dead Prez, Deftones, Digital and Spirit, Dizzee Rascal, Dr. Dre, Dr. Hook, Egyptian Lover, Eurythmics, Fake Blood, Fatboy Slim, Fergie, Lupe Fiasco, Groove Armada, Bill Haley, Hashim, Rupert Holmes, The Human League, Indo G, Rick James, Jay-z, Journey, Justice, KRS-One, Led Zeppelin, Lil Wayne, Ludacris, Lynyrd Skynyrd, Magic Mike, Aimee Mann, Mannie Fresh, Mantronix, Metallica, M.I.A., Mims, Missy Elliot, Money Mark, MSTRKRFT, My Morning Jacket, Nate Dogg, Notorious B.I.G., Ooah, Outkast, DJ P, Pink Floyd, Quiet Riot, Radiohead, Rancid, Revl9n, Rob Base and DJ Easy Rock, Run DMC, Scarface, Schooly D, Freddie Scott, DJ Shadow, Spandau Ballet, Jimmy Spicer, Slightly Stoopid, Steppenwolf, Sublime, Tag Team, T.I., Three 6 Mafia, Treacherous Three, U2, Vampire Weekend, Whodini, Wu-Tang Clan, Yo Majesty, Z-trip.
It closes in to about 40 minutes.
[audio:DJ Skarface – Skar Talk 2.mp3]