I receive a lot of mixes and some of them just get heavy rotation. The first mix I ever downloaded by these DJs have received multiple plays.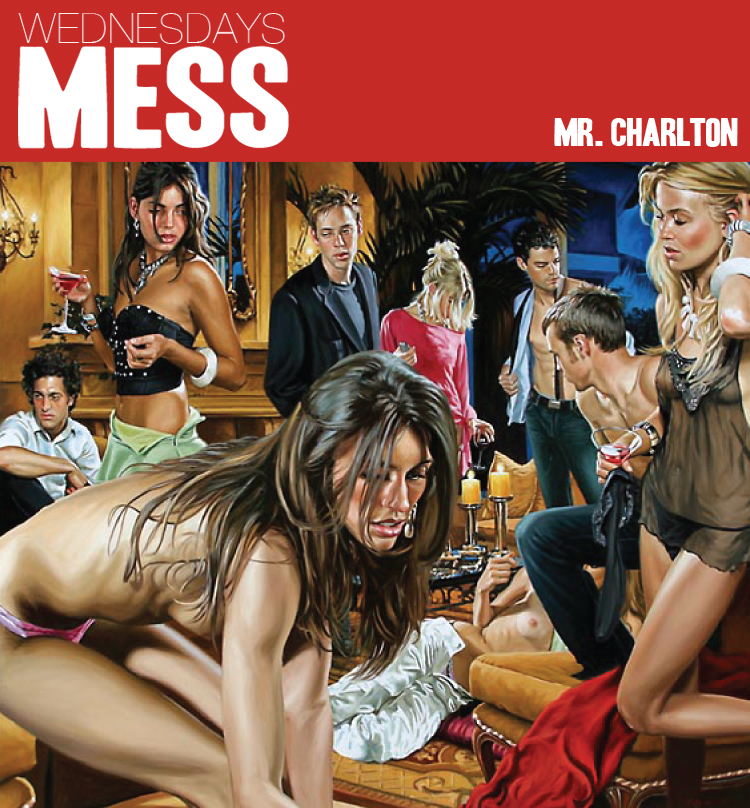 Mr. Charlton was featured here just over a month ago. Since then I have booked him for multiple gigs including the Salacious Social Monday special event we held at the social a few weeks back. Certainly one of those DJs with unlimited potential. Expect to see him go from unknown to unforgettable over the course of the next few months. I am really happy that Teddy Larsen sent me that original mix we posted because I ended up discovering one of the dopest dudes on the block, and put him on the blog! He will be tearing it up @ Wrongbar this Saturday and there is a free guestlist that you can get on which means no cover before midnight.
[audio:Alex Charlton – Wednesday's Mess D.A. Edition.mp3]
Track List:
Stevie Nicks – Stand Back (E. Escobar Mix)
Hercules & The Love Affair – Raise Me up
Phoenix – Lisztomania (A. Metric Mix)
Mr. Oizo – Cut Dick
Lenka – Trouble Is A Friend (E. Escobar Mix)
BIll Withers – Who Is He (H. Schwarz Mix)
Filthy Dukes – This Rhythm (F. Falke Mix)
Sebastian Tellier – Kilometer (A-Trak Mix)
Hugg & Pepp – Sweet Rosie
Curses! – The Deep End (Holy Ghost Mix)
Mr. Oizo – Jo
Jesse Rose – Night At The Dogs
Tiga – Sex O'Clock
LeLe – Breakfast (Mercury Mix)
CLASSIXX – I'll Get You
Late Of The Pier – Bears Are Coming (Joakim Dub)
The Presets – A New Sky
Kasper Bjorke – Doesn's Matter (Kasper Bjorke Mix Ft. Tomboy)
FIshcherspooner РSupply & Demand (Auto̩rotique Mix)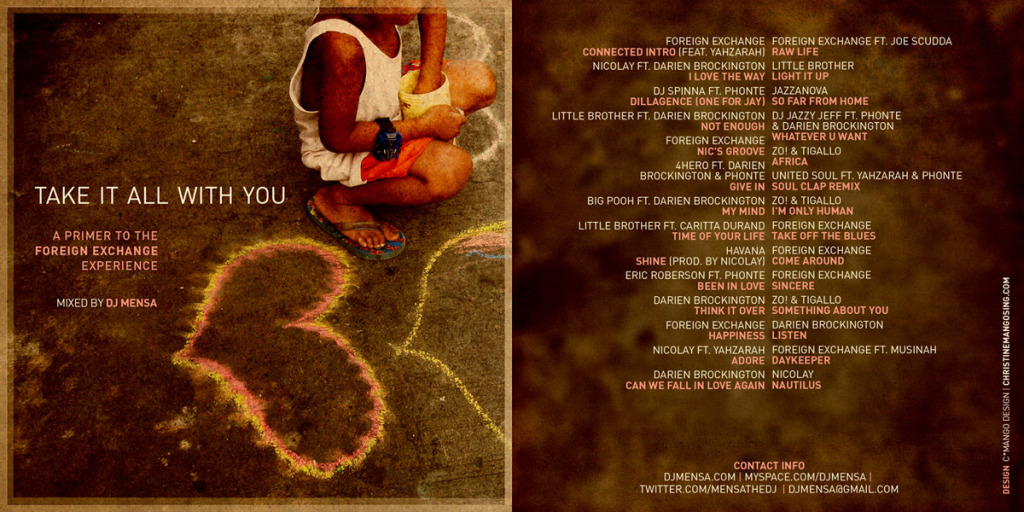 DJ Mensa's mixes have been the best thing to happen to me on days where I have nothing to do. Put on a mix and hang around the house. His track selection provides the perfect backdrop to day of chilling. Whether its with your people in your backyard or you've got something to do around the house I can't stop moving my head when he's on the ones and twos. His night Social Experiment Thursday's at Octopus Lounge is a great way to check him out in the flesh. He was the Toronto Redbull 3Style champion this year and has counted me as a fan ever since.
[audio:DJ Mensa – Take it All With You.mp3]
Track List:
Foreign Exchange – Connected Intro (feat. Yahzarah)
Nicolay ft. Darien Brockington – I Love The Way
DJ Spinna ft. Phonte – Dillagence (One For Jay)
Little Brother ft. Darien Brockington – Not Enough
Foreign Exchange – Nic's Groove
4Hero ft. Darien Brockington & Phonte – Give In
Big Pooh ft. Darien Brockington – My Mind
Little Brother ft. Caritta Durand – Time Of Your Life
Havana – Shine (prod. by Nicolay)
Eric Roberson ft. Phonte – Been In Love
Darien Brockington – Think It Over
Foreign Exchange – Happiness
NIcolay ft. Yahzarah – Adore
Darien Brockington – Can We Fall In Love Again
Foreign Exchange ft. Joe Scudda – Raw Life
Little Brother – Light It Up
Jazzanova – So Far From Home
DJ Jazzy Jeff ft. Phonte & Darien Brockington – Whatever U Want
Zo! & Tigallo – Africa
United Soul ft. Yahzarah & Phonte – Soul Clap Remix
Zo! & Tigallo – I'm Only Human
Foreign Exchange – Take Off The Blues
Foreign Exchange – Come Around
Foreign Exchange – Sincere
Zo! & Tigallo – Something About You
Darien Brockington – Listen
Foreign Exchange ft. Musinah – Daykeeper
Nicolay – Nautilus