Hi, my name is Cal, and I'm the editor of SalaciousSound.com. If there's one thing I've learned about music journalism in the last three years, it's that it's all about timing.
For example, if I hadn't been on the second balcony of The Mohawk during The Roots SXSW 2012 performance, with an easily-discarded/recently-finished cocktail in my right hand and my camera in my left, I wouldn't have caught ?uestlove's drumstick (pictured below).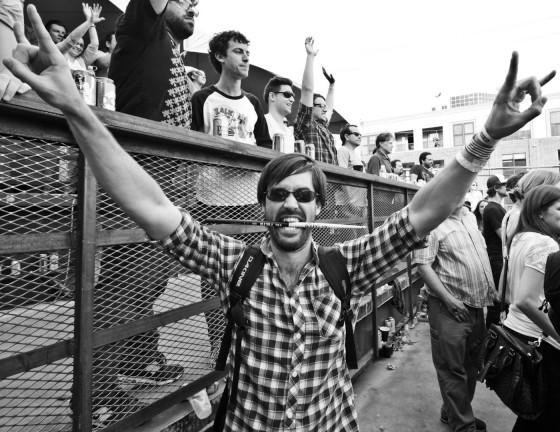 I'm writing this in hopes it will compel you to write for SalaciousSound. Contributing to Salacious is a metric shit-ton of fun, so let me describe a few ways you can get involved.
Writers – We're always looking for talented writers, and even crappy writers who just really like music. We're especially looking for people who listen to music we are not currently covering on the site, or perhaps are not covering well. We can create some arrangement where you write about whatever you want, or maybe you'd like me to give you assignments? It's all good! I pass up a lot of opportunities to interview people, so if talking to wicked musicians sounds like something you might enjoy, you should make special note of it.
Photographers and concert reviewers – I personally love show photography and reviews — it's one of the reasons the site was started, and I would love to get lots more 'local' content. If you want to try your hand at a show review, please reach out. The arrangement can be very ad-hoc, or maybe you'd like to be our go-to local correspondent? Totally up to you. The point is, we can set you up with passes to just about any show or festival you might like to write about or shoot. One special note: if you want to cover a festival you must be able to do your own photography, and festivals only allow DSLRs — no point and shoot cams.
Artists, musicians, producers – Are you an artist/producer/bedroom DJ looking to promote your work, or maybe just want to do something regular for shits and giggles? Get at us about writing a column or releasing a podcast with us. Our feature series on Salacious are by far the most popular content items, and are an effective way to reach out to a targeted audience + build a personal following for your project.
One last thing — this isn't a job application, I'm not vetting or even judging you. We are super inclusive, and do this because we love to share. It doesn't matter a bit if you've never done this before, or think you might be bad. I'm here to help, make your contributions look good, and even help you improve + learn about the industry (if you're interested!)
So wtf are you waiting for?? Get at me!
Some things you might want to include – what types of music you listen to, what you'd like to cover for SalaciousSound, where you live, any kind of social media links so I can follow you (twitter/facebook/etc), and if you like, any previous experience in the music industry.