**Aug. 22nd update: CloZee just released her full Shambhala 2016 set! Check it out and hit up the free download on SoundCloud.

With its recent surge in popularity, Shambhala Music Festival is seeing a huge turnout of new faces each year, both artists and attendees alike. Chloé Herry, better known as CloZee, is among this year's list of first-timers – and it's no doubt that she easily came to love the farm in no time, as she was to perform her set on the final night of the festival.
Upon first meeting her, Chloé has a very soft and calming demeanor to her, and almost instantly embraces me with a warm hug as we exchange greetings. Despite having to send some questions beforehand (as English is not her first language), she is very open to answering a couple more from a fan and fellow attendee. Here's what Chloé had to say: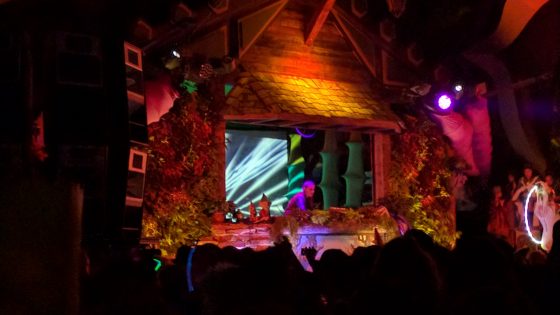 Soul Search- can you tell me how it came to be/the inspiration behind it?
I was with VOLO, the other producer.  VOLO started the production of this track and sent me a demo of it, and I love VOLO's style, (since) our inspirations are pretty much the same. We love the "world music" sound – and mixed with electronic/kinda tribal/trappy stuff. I think we were really on the same page for this, so he sent me a demo that I immediately loved. I added my touch to it, and that's how Soul Search came. He inspired me, and I think we inspired each other by our music.
What has the Shambhala community taught you?
I've only been here since yesterday night (Aug. 6), so I think it's a little bit short for me to (have) really experienced Shambhala – which is amazing, already. I'm waiting until tonight, after (my) set, to catch more and more music, to talk to more people, because I feel like I've not experienced this enough yet. I've only been here since last night, at 10 pm, which is a little bit short.
But I mean, it's an amazing festival. In France, for example, we don't have these kinds of festivals – like, no alcohol, all types of electronic music, emerging artists, or international big artists. I really love this – we are all in the same place like a family, that's what I really love about here.
Is there anyone in particular that you want to try and catch tonight?
Tonight, I really want to catch Haywyre, Conrank, Emancipator, who else… Mija – a lot of them, actually. I can't even remember who is also there, but those are the main people I want to catch.
How would you say women's representation in the electronic music scene has become as of lately?
I think we are still only a few. For me, we need more – we need to get inspired by each other more. We need more females who are just coming (up). I don't know why there's more men producers. Maybe men are more… "geek"? *laughs* I dunno, honestly. But, you have to be a geek. You have to LOVE electronics, and techniques, and spend hours on the computer trying things. I feel like we would be more inspired by other female producers to start music.
Big ups to Jasper Kanes for the following questions:
Who are your biggest musical influences, past and present?
I really love Vicente Amigo, he's a flamenco guitar player. Bonobo inspired me a lot to start making music. Beats Antique, The Glitch Mob – more particularly edIT from the Glitch Mob. I would say Flume more recently, and Haywyre, and so many more. But those ones are the biggest ones.
What is your process for composing/producing your tracks?
It's always different. Sometimes I start with a melody, with the guitar, and then I add a beat, and a bass, something like that. But it's always different – I don't have a specific process to when I start making music. So it's just the general inspiration of the moment. "What do I want to do?" I start with the chord, or I start with the guitar, and add more elements to it. It's always different. *laughs*
—
Throughout her set in The Grove, CloZee goes all in – she waves her hands in the air like drumsticks to every beat, and throws a quick jab to every filthy drop she unleashes upon us – yet all the while, she has the biggest smile on her face, as she dances along to the music and becomes one with the crowd.
In fact, I can't help but notice that she and Haywyre, who played a couple of hours before her, share some of the same mannerisms on set, particularly in the way they move and jump around while they mix.
In the final 10 minutes of her set, Chloé goes all in, as the bass gets heavier, and the dancers on stage start dancing harder. Once it all comes to an end though, she gives her heartfelt appreciation to the crowd.
"Thank you everyone! This has been my first Shambhala, and I hope to come back!"

Tickets for Shambhala's 20th anniversary go on sale September 1st, on the festival's main website.
~CloZee~
Facebook | Twitter | SoundCloud
.