I remember catching Gramatik at the Danforth Music Hall last September, when I was told about a wonderful, loving festival all the way out in BC. I was also told that I would fit perfectly in, simply due to the fact that I was wearing a Santa hat to see Gramatik. (In all fairness, nobody else in the crowd had any accessories/props on them.) However, that wasn't the selling point for me, nor was it that year's stellar lineup that catered to my innermost tastes, but rather the fact that a passerby overheard us talking about the festival, and both former attendees greeted each other with "Happy Shambs!" – thus solidifying how tight-knit the community is at said festival.
Tucked away in the mountains is the 500-acre Salmo River Ranch, which once a year transforms into Shambhala – a magical space of art, music and unity. Colloquially known as Shams/Shambs, the camping festival takes place over three days, with this year's 19th annual event falling on August 5th-7th. Although it's advertised to take place for the few days, it has progressively grown into a week-long adventure, thanks to early entry, and the option to stay on the farm an extra night before the long journey home.
Some festivals are a great way to escape for a while, and run away from all the tough questions and problems of life. Shambhala Music Festival isn't like that – rather, you escape to go and find answers, whilst exploring a selection of a few hundred artists across seven stages, ranging from REZZ to Sub Focus, from Haywyre to Emancipator, from Space Jesus to Flamingosis. Before this trek across Canada, I've had a largely Toronto-biased view of the electronic music scene. Here's how Shambhala is on a wholly different level as compared to anything I've come to experience in the city:
The Shambhalove
"This was my first shams and my twentieth birthday it was incredible"

–Maggi
This is undoubtedly the heart and soul of the entire festival. From 3 years, to 6, to quite a number of people celebrating their 10th year at Shambs, the veterans have smiles just as huge as when they first attended, once upon a time. From the 6-hour shuttle bus from Calgary, to being deep within the masses on the dance floor, there is nothing but wondrous, positive vibes given off by everyone as I receive countless hugs/high-fives throughout the week, each paired with a "Happy Shambs". It's not an exaggeration when I say that everybody around you is willing to reach out and help one another have a fantastic experience – from people giving out gum, to flashlights, to Pokémon cards, you can tell that everyone is happy to spread the love, especially towards the Shamb-virgins. It's no surprise why the festival has a huge rate of return, with nearly all first-timers saying they'll be back again the following year.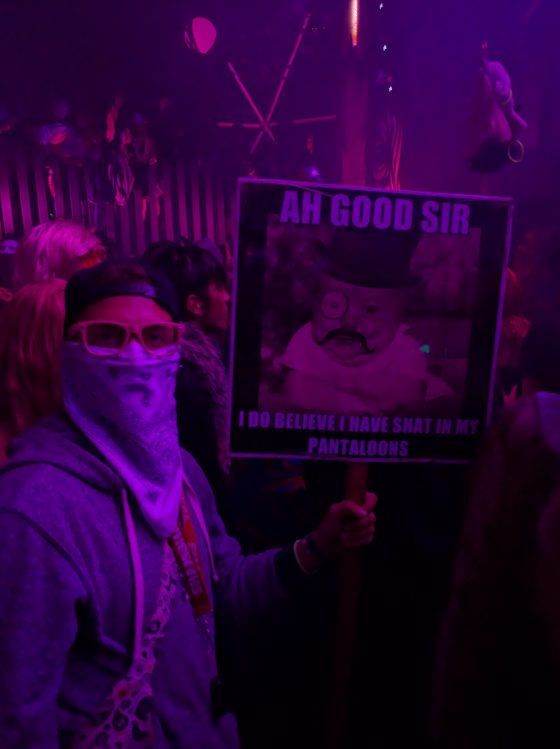 Complete openness
"What makes Shambhala really magical is that everyone is so supportive. It's a place where you can bring your weirdness, your inner child, or any part of yourself you want to explore, and people will cheer you on for doing it. It's a great place to really explore yourself. There's a sign I see every Shambhala that I think really sums it up for me. It says, "LET'S GET WEIRD!!!"

–Jasper (3rd year)
At Shambs, you are capable (actually, encouraged) to be whoever/whatever you wish to be, and to be as weird as you possibly want. Everybody can be anybody, to the point that any crazy idea you have and pull off will be lauded, rather than questioned. Some people choose to come decked out in the most creative outfits/costumes, and others choose to go with as little as possible (and there's no limit as to how little you can wear). Regardless, nothing is seen as out of the ordinary, and the community is very welcoming of who you choose to represent yourself as, no matter what or who that may be.
In regards to next year, I'm already planning out the tutu I'd want to flaunt at the farm.
The sense of adventure
"We're from Texas so coming to Canada for sham was a huge trip that we will definitely be repeating. Everyone here is so nice and welcoming. Tbh people don't even realize we're from Texas until we say y'all!"

-Shannon & Connor
With the closest hint of civilization being 6km away, Shambhala is a stretch away from any convenient trips to the gas station/grocery store. Packing a shit-ton of provisions and making the journey out to Salmo River Ranch has a thrill of its own– whether driving in from Ontario/Alberta/Colorado/California, or taking 3 trains, 2 buses and a plane over the course of a day. Sure, it's convenient to hit up the first day of Digital/VELD/Bestival, head home/to the hotel, and repeat for Day 2, but it's not the same as seeing the Milky Way in the sky above you before sleeping in your tent (if you can manage to fall asleep, that is).
There's also a grander sense of accomplishment staying up till 6am to catch your favourite artist – and if it's an artist who hasn't stopped by your hometown yet, you're far more inclined to dance as if you just woke up from a 12-hour siesta.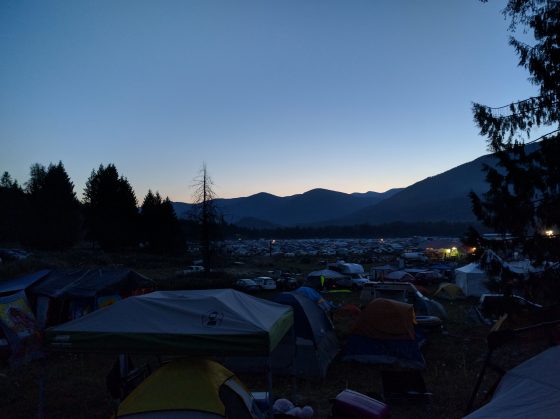 Embedded Spirituality
"Please, make some noise for everyone!"
Outside of the festivities and madness, Shambhala also looks to nourish our spiritual well-being. There's daily-scheduled yoga/meditation, as well as some crystals, trinkets and instruments being sold at some of the vendor booths. There's also an opening ceremony on Day 1, which includes giving blessings to the guardians of the East, South, North, and West,  to bring light to how we all come together as one, under Mother Gaia.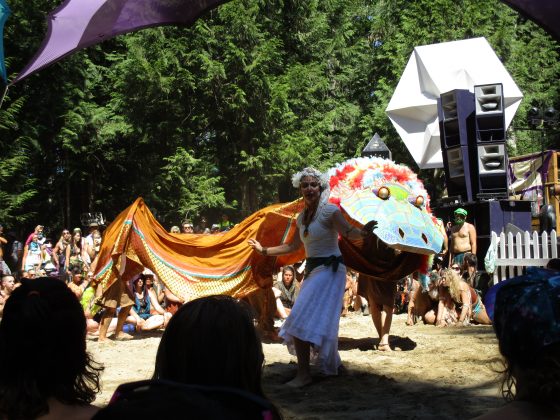 Advocating a safe environment
First time here and G Jones is slaying!!

–Lucas
As mentioned earlier, there is huge emphasis on promoting a fun and fully open environment for each other. However, should something not feel right, you can chill out and find a safe haven in the sanctuary, the women's safe zone, or even at the harm-reduction tent, which includes free testing, as well as info on what you're choosing to put into your body. All three spots are located right next to each other, in the heart of the festival (also known as Downtown).
Beyond such a glorious space, everyone looks out for one another – the number of people I see asking friends and strangers alike if they need water, if they're doing alright, and other acts of checking up is astonishing.  There's also very little to no creeper acts (such as the all-too-common 'grab a girl from behind thinking she'll say yes to dance'), as everybody's there for the same reason: rather than meeting up with your friends to listen to music IN a sea of people, it feels more like you're there to dance and have fun WITH a sea of people.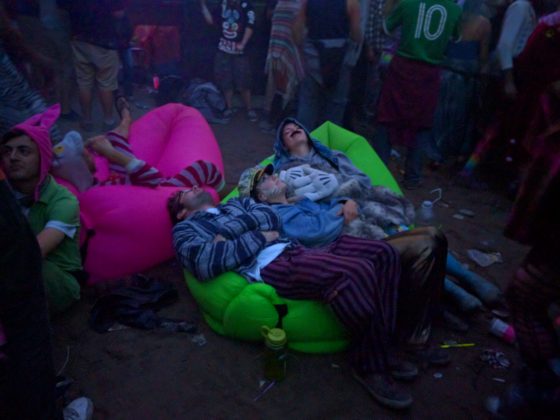 Shambhala is celebrating its 20th anniversary next year, from August 11th-14th. Given how this year's event sold out in record time, you may want to grab a ticket as early as possible, especially since they go on sale in just a few weeks – on the 1st of September.
Hope to see you on the farm next year! Happy Shambhala.
~Shambhala~
.