There's a new face in electronic dance music: Perttu. This Finnish producer based out of Berlin has spent the last year developing his own sound and producing new music. Formerly a drummer in a handful of rock/metal bands, he's switched gears and is working on his own electronic dance music project. He recently released his original single "Waves" along with the music video that premiered on Billboard USA. Though it's still early in his electronic music career, I look forward to seeing what Perttu has for us in the future. Interested in learning more, I got a chance to talk to Perttu and learned much about him. Check out our fun and informative conversation!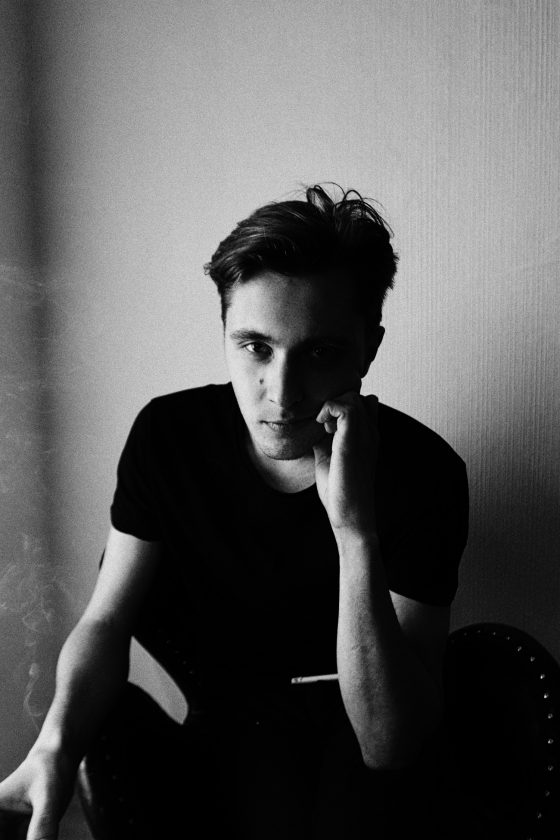 I'm curious about your musical background. I know that you used to be a drummer for a variety of different rock bands. Can you tell me about how you first got into drumming and your experiences in the different bands?
I started playing drums when I was 6 years old, so actually I'm not even sure where this came from. I was 5 or 6 years old when I told my dad, "Dad, I know I want to be a rockstar when I'm older". I started with drums, then soon I started playing piano and other different instruments, like guitar and bass, a little bit. Yeah, I formed my first band when I was in 4th grade or so. I was playing drums and this continued into upper secondary school.
I was in many different bands, mostly rock, but played in bands like funk and jazz. When I was a teenager, we started a metal band, and we got a deal from Sony, and we toured a lot in Europe back when I was 17 to 20. After that, I got more interested in electronic music and about sampling and this kind of stuff. That's about it.
You might get this a lot, but you're Finnish right? So were you a fan of HIM growing up?
Yeah, but I wasn't the biggest fan, but I really like them. I like Ville, he's a really funny character. Back in my heavy metal times, I was into really extreme heavy metal, death metal.
What sparked the change of genre? And how did you step away from rock music and how did you get into producing electronic music?
If you do music for your whole life, or if you do anything for your whole life, I guess a need for change comes naturally. I see music as a big field full of places for you to go and investigate and learn. So I guess I just had enough of playing in bands and doing the heavy metal. And I have always been a fan of music in general. I always listened to pop music. I always listened to world music and more experimental music and all kind of stuff. I can't actually tell what made the change. Maybe because I enjoy the culture around electronic music. People are really open and good hearted. I had good experiences in the culture of dance music and electronic music. I think that's the main key point of why I switched, I wanted to be there to be with these people and learn about the culture and this music.
Did you move to Berlin recently?
I moved here almost 2 years ago.
Would you say that Berlin's big electronic dance music, techno scene has influenced your taste?
I came here because I wanted to go deeper and make techno music actually. So I also have a project which I haven't released anything with but it's more techno and the experimental weird stuff. I need both. I need the pop side to keep myself sane, and every now and then I dive deep and see this world. I never visited Berlin before, but that was the main reason to come to Berlin. I have heard a lot of good things about it. And the techno scene and electronic music scene is really big here.
Who are some of your biggest influences from both the rock and electronic/EDM genres?
Biggest influences hmm.. There are so many. It's hard to say. In electronic music, I would say Diplo or Avicii, like these big names. I also have some in the underground scene like Nicolas Jaar or techno Ben Klock that I really like. There are so many. Rock music – Lemmy Kilmister. These guys with attitudes. I like members of KISS. I like to read some, what's it called when someone writes about his life…
Biography?
Yeah, I like to read those of the members of KISS. I like some legendary drummers like Phil Rudd and Tony Royster Jr. There are many different influences.
When you make music, do you find yourself taking elements of rock music and trying to incorporate it or maybe transform it? Or are you completely starting from scratch and creating your own personal electronic sound?
I mean if you do so much different music, it automatically influences you somehow. You learn from different genres, and you can bring some elements from them to others. Actually, if I write songs nowadays, I mainly start with an idea/concept that I have. Like some feeling or some message I want to put in a song. I'm not the best lyricist, but I have these ideas. Then, I need one good writer. And then we start talking about different things and the concepts. Then, we start jamming and we see what comes out.
In the other hand, if I do more experimental stuff, it sometimes can be some sound or color that is inspiration. Then, you just play around with your tools and what you have at the moment. It changes, it's hard to say, it's never the same, this creative process.
Seems like you have your own process down.
It's more about the situation, and you have to just see how it comes. It's kind of like when you're surfing. You can't affect how the waves are coming, but you can learn how to surf. That's the same with music. You never know when the waves are coming, but you have to go for it.
I know nowadays, with music exceeding beyond the boundaries of the typical genres, it's difficult to identify with one, but is there a particular genre you like to characterize your own music?
Not very specific – but it's dance music, EDM. Or IDM, intellectual dance music, haha.
Whether electronic or rock or any other genre, who would your dream collaboration be with?
Michael Jackson.
If he were around today, what would you want to produce?
Something really soulful, a soulful house track, where he works his magic. Maybe some old school house track with analog synths and Michael Jackson vocals. Create some really choreograph for it as well.
Also, it'd be cool to collaborate Avicii, Kygo, so that we would have a rock band all from northern countries: Finnish, Swedes, Norway.
I know you've toured as a drummer. Any touring or live shows you've had recently or are upcoming as your electronic project? What's been your best experience so far?
I've been in the studio in the past year since this project is really new. I've been focusing on learning how to produce first, and making songs. I used to throw club parties back in Helsinki under a different name but not recently. The latest was last summer. Right now, we're planning a live show. I'll start with a DJ set and continue to develop into something more. I'm not in a rush because I really want good content, and I don't want to rush into anything.
I know you've been gaining a lot of traction lately with your "I Hate you, I love you" remix and your original track waves, and you've been in the studio. Any plans to release an album or EP anytime soon?
I think I'm focusing on singles right now and in between singles, more remixes. Then, it'll be nice to release an album with bonus material. But let's see. But I think the next single will be released in a couple months. But before that, I'll release some remixes
And finally, now that you're really getting your name out there, what is your goal as a musician?
Just to learn more and to get better. That's my goal. I would be awesome to play a show at Burning Man. And when they send people to Mars, that'd be cool.
Be sure to follow Perttu on the socials!
Perttu