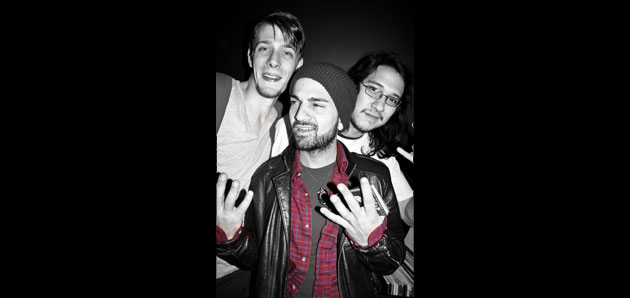 I had the opportunity to chat with my colleague and resident house author, Paul Revered, this week, along with our friend Ash of TapeDeck Bros fame. The two, along with support from other local musicians, have recently been embarking on some interesting ventures lately, covering old electronic anthems between spinning several shows a week between the lot of them, including a weekly spot on dubplate.fm. In addition to answering my inquiries, the gents have also shared their latest cover, or what Paul described for me one night as a re-imagining from the ground up. Before we go on, I'd like to commend the guys – too often is serious work like this relegated to the "bootlegs" bin, when in any other genre we'd call it a cover. Maybe it's easier to accept in this case because, in addition to building it from the ground up, the guys have covered the vocals and added acoustic instrumentation, but I'll leave that for you to decide!
Cal: What is the name of your project, and who are its members?
Paul: Our project is nameless for meow. Its members are Ash Ainsworth (Tape Deck Bros) and Paul Revered (undeadisco), including contributions from Bahraini vocalist Majid Ali, saxophonist Rob Christian, ADHD Theatre, The Frandiscos, Riviera, and more talented musicians yet to convert.
Cal: Tell us about your production cred! How long have you been doing what you do? What are your tools of the trade?
Paul: I'm a production novice. My place in house music has been determined by my relationship with it: from sneaking out to revel in house at loft parties in 97 to making the recent leap to production; I've gone from distant crush to slave by marriage. I'm always learning and have many teachers to thank such as Day, GoldSpade, WhiteHawk, and Colin Sims. My DAW is Ableton Live 8.
Ash: I've been working with various DAWs for 8 years, but made the turn to producing dance music in 2008, when I got sick of produce bands at the time, but that is something I find myself going back to. I came from classical training in vocals, theory, and trained on chelo, guitar, bass, drums. I was in a few musicals, joined a barber shop quartet, even dabbled in tap. More recently I formed a band, including Christofer TapeDeck, called Animal Clinic. It was during this time we quit the band and turned into the Tape Deck Bros.
Cal: When did you start the project?
Paul: We've been working together a few weeks. The interest has been brewing as long as we've been collaborating as DJs, and more specifically after we began the Dilated Pixels collective, a fictional group striving for musical freedom. It's paramount to our improvement as producers to satisfy ourselves and others by collaborating and developing new characters and styles all the time. Ash remarks how inspiring it is that his favourite producers in the city seem to be up at the crack of dawn working on their shit.
Cal: Why did you guys start the project?
Paul: We really respect each other as artists, and feel our strengths balance each other out. We come from two different places in music, while having great pride in each other's tastes, so the intersection of our perspectives makes for fun dance music for a broad audience.
Ash: Completely agree.
Cal: You have done some covers, integrating acoustic instrumentation – is this a theme or a flavour?
Ash: Music is always changing, especially the tastes of the dance scene. Yesterday it was the distorted basslines of electro, today its balkan beat, so who knows what tomorrow will bring. We love all these styles for their own reasons, and so are looking to break from the status quo without upsetting the ebb and flow of dance. For instance, the Harder Better Faster Stronger cover was a statement about the music behind electro; Daft Punk may have fathered the modern electrohouse genre, but theirs was simply a glitchier take on what disco-edit DJs were already doing at the time. Our cover brings us back to the organic roots of Edwin Birdsong's Cola Bottle Baby, and what natural wonders lay dormant and obfuscated in the 90s dance hit, and more recently in Kanye's pastiche. We are not exclusively making covers, but covers are a legitimate way of paying dues and tribute. In other cases, we'll simply re-articulate a previously used sample, or more likely discover groove untouched by past DJs.
Paul: The reason why these covers are relevant to Ash personally is that whenever he hears music he loves, he tries to see if the song or parts of it can be re-articulated. May i remind you that we are living in post-modern age of symbolic communication. it seems that people are dying to hear music they missed due to their young age… and they want it re-articulated a way to suit the times. We're taking a loose, organic, and homage paying approach to house. Essentially, rediscovering house.
Cal: Are you interested in creating electronic performances with live elements?
Paul: In this day and age, the music business has reverted to a modern version of an old paradigm, followed to this day by bands like Fish and The Dead: artists must be performers, thus the strong aspiration for DJs to produce, and producers to DJ. Let's face it, nobody is paying their mortgage off Beatport or Juno sales; the real money lies in performance. We have yet to develop the catalogue necessary to perform in a 'band' form at this time, however you can rest assured that this is the plan for the future of our movement.
Cal: Are you aiming to release music? If so, will you start with singles, an EP, or an album?
Paul: We are definitely going to release music, hence the unwillingness to leak the fruits of our labour. It's unclear what form our music takes in terms of product marketing, but I can tell you that we have no intention of producing CDs.
Ash: Put it this way: your music is either a consumable or a collectible, thus digital or wax. There is no alternative.
[audio:Tape Deck Bros + Paul Revered ft. Majid – Harder Better Faster Stronger (Daft Punk Cover).mp3]