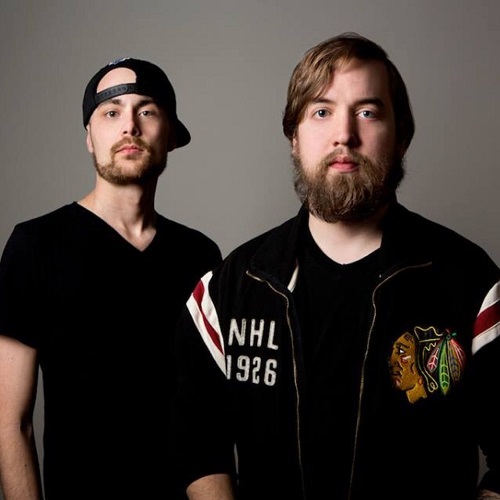 Dan Dwyer and Josh Andres are the working force behind Statik Link, and the duo is set out to re-define Bass! With an upcoming EP being released at the end of winter, they give us a taste of what's to come with Black Lotus – bringing together Future Bass and Trap, as well as a background in Hip-Hop, they deliver a sound which can't simply be described as 'Futuristic', but rather 'next-level'. It's available as a free download for a limited time, so hit it up while you still can!
I had the pleasure to ask Josh and Dan some questions, and they gave some insight on Black Lotus, as well as their upcoming Renaissance EP, which drops March 17th.
What's the backstory of how the two of you joined forces?
Josh: Dan and I met back in 2011 at Porn N Chicken (PnC) in Chicago. I was visiting Chicago for a work meeting I had. A friend, Faith, who lived in Chicago and used to attend PnC frequently, introduced me to Dan. We started talking music and Dan invited me back to do a tag team set during his slot at PnC. That was our first performance together, even though Dan and I were under different stage names at the time. Later on Dan asked me to remix one of his group's tracks. After the remix, Dan and I decided to join forces and work on doing bass music together.
Dan: Josh and I clicked pretty much from the start. I've always been a big technical nerd and talking shop about production techniques & sound design is the fastest way to get my attention. After we met and talked for a while, it seemed we had a lot of common goals with the music we wanted to create, and it seemed like the best thing to do was to work together.
What can we expect from Renaissance?  
Josh: Something fresh, different, and unique, compared to the current trends in Dance music.  With this project we spent a lot of time in the studio working with different sounds, and focused 100% on creating the best project we could. We wanted to create something that still had a Hip-Hop edge, but was more traditional-style, not as aggressive. We were influenced by a lot of the sounds of ATL Trap music, Future Bass, and Industrial sounding music. We focused on creating an organic, almost industrial-type sound. We used hardware gear, different forms of mixing and mastering, and worked with some incredibly talented artists on this project. This is honestly, in our opinion, the best project we've ever done.
Dan: I think we've seen that a lot of music finds itself buried in being loud and following formulas. We wanted to go up against that trend. We focused on creating a lot more space in our music. Giving things a chance to rise and fall. The last thing we wanted was to slam people in the face with the same boring drops that are "way more very much louder".

How did Black Lotus come into bloom?

Josh: We were really digging the vibes of Future Bass and the traditional Hip-Hop sounds that we've been hearing on a lot of new releases. We wanted to create something that had some of the same feel, but incorporate our Hip-Hop based sound. We meshed these sounds into the more organic, non-heavy synth, funky sound of Black Lotus. It features a synthetically processed vocal lead, smoother synth design but with an edgier song structure to give it some grit. The song came together by experimenting with all of these sounds. We are excited to release Black Lotus as our single because it sums up the sounds you will hear on our new EP, Renaissance, coming soon!
Dan: It seemed to us as a natural progression of what we've been doing since we started working together. The focus has always been on bass genres but with our own distinct flavor. Black Lotus is just the latest edition of our continuing growth as musicians and producers.

How do you hope to change/revolutionize Electronic music as we hear it today?
Josh: We'd like to push the trend of creativity, not going with what is popular. I think being an artist and expressing your form of that art is important, no matter how against the grain it may sound. We know that music is subjective, each person has their own taste, but we want people to recognize our unique style. We want our fans, listeners, and tastemakers to say, Statik Link really made something different that is catchy, unique, and a breath of fresh air. The spotlight, even though it would be nice, was never a focus for us when creating. We wanted to leave a legacy behind; a characteristic Statik Link sound that makes waves in the Hip-Hop and Dance community.
Dan: Our taste comes first in our music. We can't make something for anyone but ourselves. We put it out there and just hope others will feel what we feel. I'd like to see more honesty in the music industry as a whole. Too many people are out there to ride a fad or copy and paste songs. We'd like to be the beginning of a rise of honest musicians and the fall of the plastic artists.
Are there any specific genres you'd like to experiment with sometime down the road?
Josh:  We've been talking about incorporating live instruments into our music and live performances. We want to give our fans something different for our live shows. We think using instruments like the Bass Guitar, Guitar, and different analog synths in our studio recordings and live shows would step our game up.
Dan:  We talk a lot about how bass music has stalled out. In the super short cycle life of genres these days, nothing has really come out recently and blown people away. We're trying to push ourselves creatively to be more proactive about coming up with original sounds instead of reacting to genre trends. We think you'll hear that with Renaissance. With every additional piece we make, we hope to develop that new sound more and more. I'd like to add that I've been finding music through this blog for years and it's a super huge honor to be able to talk with you guys. (Editor's note: It's been wonderful talking with you guys as well!)
~Statik Link~
Facebook | Twitter | SoundCloud
.