Whether you're a loyal follower or just seeking your first taste of divinity, Black Tiger Sex Machine's new album Welcome To Our Church doesn't disappoint. You'll find the LP is tied together through well placed choral arrangements and eerie vocal samples, but the larger underlying theme draws comparisons to electronic music and the church-like event of experiencing it at a show with others. In case you were confused, leave the Sunday dress at home. This is a collection of raw unforgiving bass music at its finest.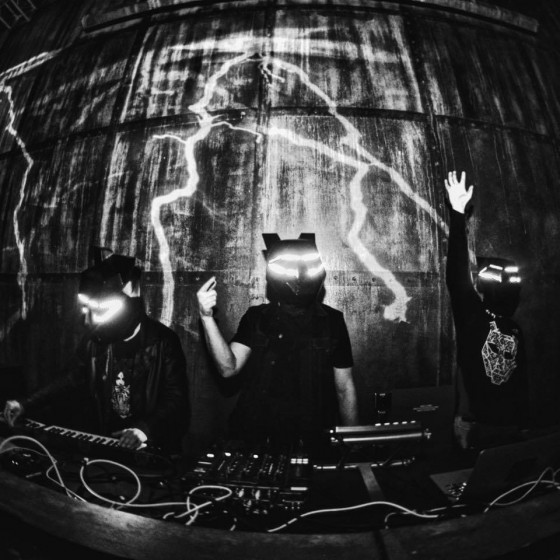 Built upon a foundation of BTSM's signature gritty electro brand, Welcome To Our Church doesn't end at that, touching on the dark twisted corners of dubstep with heavy hitting tracks like 'Broadside' and 'Armada', and showing off more experimental sounds I'm too afraid to describe in words (see Apache collab 'Swing High'). Currently on tour with label mates Apache and Dabin, BTSM features a handful of artists from the much respected Kannibalen Records on the LP as well… A bit of a Kannifam jam if you will.
Having witnessed their brain-melting live show first hand here in Toronto, I was excited to chat with Black Tiger Sex Machine about the new album. Hit that play button already and let's get into it.
Tell us a little more about the church theme to the new album. Where did the idea come from and what does it mean to you guys?
Ever since we shot our first live demo in a church for no specific reason, the church theme stuck super well with fans. When naming the album, we had a short list but asked the fans to pitch in ideas. 'Welcome To Our Church' was a definite winner with the fans and was our top pick also.
We've become very fond of the church theme. We've always seen electronic music as a movement and shows as a place you go to have fun and lose yourself. Our fans have been great and trust our musical direction; although we play lots of unknown music and try to jam sets with unreleased. We see some religion likeness in fans' dedication and in our approach to BTSM.
You've already got a more in depth setup than the average DJ rig. What's in store for the BTSM live show down the road? More live instrumentation? Full drum kit? Mask upgrades?
Right now, the constant traveling and the luggage restriction doesn't allow us to bring tons of gear on the road. We're super happy however with our three stations right now. In the future you can expect more controllers and more extensive usage of the ableton live sessions.
On the helmet front, version 2.0 of the helmets are about to be finalized. This will give us direct midi to dmx control on the LED lights of the helmets. We're super excited for it as it will be another great step to push the visual and audio immersiveness of the show.
With three of you in the studio, is there any sort of routine in terms of who writes what or is it more of a free for all of who's got the creativity flowing at the moment?
We actually produce solo at home and share stuff online. The communication is constant but with the Kannibalen business and the touring; we prefer some solo time on that front. We'll have some late night session here or there but that's been working the best for us so far.
Our biggest studio sessions together are vocal recording sessions. on the LP, we had the chance to work with two amazing artists from Montreal, Face-T and Husser. Both sessions were super different and unique. It was one of the first times recording MCs and vocalists so it was quite a new experience for us. It went great and we're super happy with the product.
Working with so many of your own artists on "Welcome To Our Church", Kannibalen is obviously a very tight knit group. Can you talk a little about BTSM's relationship with the rest of the crew both musically and otherwise?
It's a fairy tale story. We all started together 4 years and some months ago from basically nothing. We had local fans and a good event in Montreal but we had no contacts internationally and knew nothing about the music business. We're super proud of how far we've gone and super motivated to keep pushing the Kannibalen brand.
Like what you hear? Grab the album and check for tour dates here.
Black Tiger Sex Machine on:
SoundCloud | Facebook | Twitter | Official Site
– StatiK