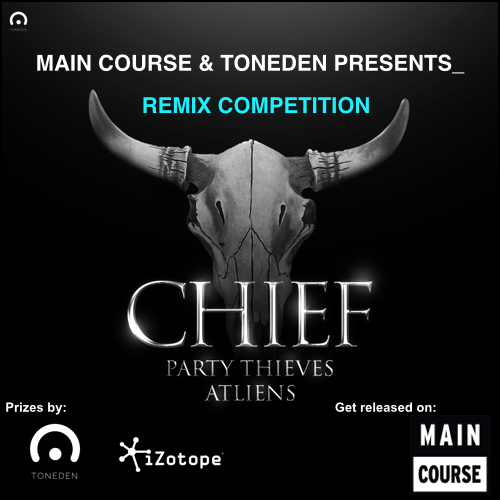 Greetings! Neoteric from Main Course here, with our picks for the finalists in our Party Thieves x ATLiens Remix Contest, presented with help from ToneDen, IzoTope and our friends at Salacious Sound!
With over 180 entries (!!!) it was very difficult to narrow our picks down to just 10 – thank you to everyone who entered. The artists and team at Main Course made their selections based on production quality and originality. The finalists are listed in Alphabetical order, and the playlist is on random, so take a listen to each remix, and place your votes via our Forum! Rules below!
Here are the 10 Finalists (In Alphabetical Order)
Voting & Rules:
Online voting can occur via our forum
Forum Voting – Heard to the remix subforum and leave a comment on your remix of choice. One comment per remix, per person will be counted.
Each track will be scored 1-10 and replies will be considered the 6th vote in the final judging process. Online votes count for 1/6th of the overall vote (the other 5/6th include Party Thieves, ATLiens, ToneDen, Salacious Sound and Main Course representatives). We will be monitoring accounts so please don't try to make multiple fake accounts to vote for your own track! One winner will get their remix released on Main Course, plus a prize pack from Izotope (either Ozone 6 or Iris 2!), Lifetime premium service from ToneDen and merch packs from Party Thieves, ATLiens and a Main Course prize pack from our store. Thanks for listening and help let us know which remix you think deserves to win!
Entire set: