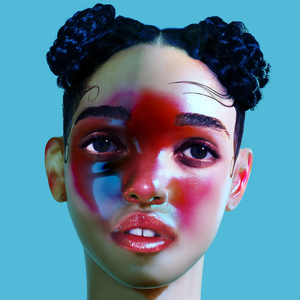 Now, this isn't the type of album you can throw on your laptop speakers whilst laying in bed alone Snapchatting/Tindering like the hopeless romantic you are. An album like this takes preparation, anticipation and just the right amount of intimacy. Now for me to fully experience and appreciate the qualities of such a depiction of art and salaciousness, I tend to throw myself in the most cinematic settings to encourage dramatic renditions (within the perimeters of the law). Try a rain-drenched walk by the sea, or a midnight highway drive through the most extensive tunnel in your county. Oh and I must add, this album should be listened to alone or with a significant other.
Don't get me wrong, this album is seductive, passionate and full of friction, hence "When I trust you, we can do it with the lights on," in FKA twigs "Lights On", But it also depicts strangeness and ambiguity. The down-tempo 'feels' and snares definitely add some hype in Twigs, "Preface", however, the sub-bass keeps it real and sexy.  Long story short, this girl must have been a direct inspiration of The Weeknd, but better (and with less debauchery).
If you were to ask a stranger on the street (which I did) what they thought of the album (considering they had listened to it), an appropriate response would be, "Waves of impulse crashing on you in an oasis of escalating tension" hmm.
Above is FKA twigs official music video release for Two Weeks from her new album LP1.
Nonetheless, you can catch FKA twigs in action on her North American tour this October.
Purchase LP1 on Young Turk
FKA twigs on
Soundcloud | Facebook | Instagram
– romey