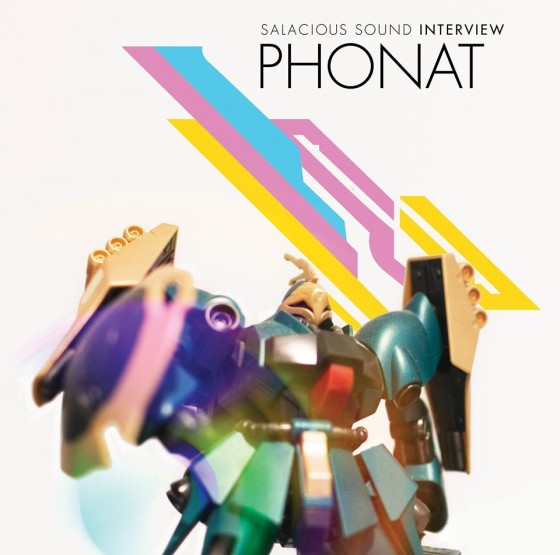 Last Thursday had a lot of ups and downs. I was sick, with a fever induced headache and a cough, but that wasn't going to stop me from interviewing one of my favorite producers. Not a chance. So in head to toe warmth and with a tea in hand, I made sure that I could talk. That checked out, and we began our chat. Phonat, or Michele Balduzzi (maybe what his mom calls him), hails from the countryside just outside of beautiful Florence, Italy. He's such a nice guy and so passionate about his music as well. So nice, even, that he stayed on the line with me for an hour afterward to chat because he had some free time, allowing me to practice my Italian. As some of you may recall, he was #2 of my 2013 top ten list, so this for me was surreal! This is what we talked about on the record:
How did you decide on the name Phonat? 
Phonat is kind of like an evolution of my graffiti tag. It was Kono, but my friends took my nickname, made fun of it, and it just kept evolving. There were like a million different ones. Then one day, one of my friends came up with Phonat, and I liked it so it stayed. It doesn't mean anything. It's just a funny name.
Growing up, what music did you listen to the most?
I went through many different phases. When I was a kid, my dad used to listen to a lot of 80's pop music, progressive rock, bands like Toto, Yes, Genesis, and Phil Collins. I liked it a lot, but when I got to decide what I wanted to listen to, I got into hip/hop. We didn't have the Internet, so it was hard to get outside music. But I listened to Snoop Dogg, who was very underground at the time where I was. And then I had a rock/metal phase with AC/DC and Def Leppard. After a bit though, my dad read in some magazine that Daft Punk was the new shit, and he bought Homework for me, and that was the record that made me want to make electronic music. Little did he know that it really would be the new thing. Then I got into house music, and it all grew from there. I listened to so much, that's why my style is very fidgety and it never really is the same.
Did you inherit any musical ability from your parents?
My dad was a musician, still is. I think I got it from him. He's always been really supportive. I bought my own computers, and I got into software music production on my own, but my first keyboard was his shitty Roland MIDI keyboard. All the first instruments I touched were his. He's always been quite supportive even though we are from different worlds, but he's always said if you want to do music, you should go for it.
Tell me about the move from Italy to London? Was it difficult?
It was a little difficult and exciting at the same time. I moved there in 2007…. Back then, when I was in Italy, I was already releasing some of my own records, so I already had some relationships with some people in the London music scene. My friends and I sometimes tried to organize club nights around Florence, but the audience wasn't ready for the kind of electronic music that we were playing, so it didn't last long. I soon realized that if I really wanted to do this, I needed to be in a place where it would be appreciated. London was no comparison to Florence. If something was going to happen, I knew needed to be in London. At home we still had 56 kbps Internet, and we didn't have the Internet sharing opportunities that we have now, so it was even more obvious. I also liked the fact that I had an excuse to go abroad. To learn a new culture, a new language, is a merit in its own right. It makes you realize the difference between culture and human beings. What is it that we all have in common, and what is it that we've been taught like customs and stuff that makes us different?
Do you miss Italian Food?
Well yeah, obviously. There's been a bit of downgrade in terms of weather and food, but at the beginning I really didn't care. Now, I feel like I could do with some sun… in fact, I'm very likely to move to LA this summer. Working with OWSLA, I'm been thinking about the possibility of doing a big move again. I was in LA a little last year, and yeah, I really liked it, especially in terms of lifestyle. My thought process was like: the weather, the sea… yeah… I like this.
Lets talk about your EP now. You said about your EP on Soundcloud that Never was about "the irrational and impossible desire of human beings to rewind as opposed to looking forward, which only produces nostalgia." Are you thinking of any experience in particular?
It wasn't a specific one; it was just kind of a thought that I had at some point when I was smoking weed. Just the fact that, new things happen to you, but you are less inclined to look for new things. You look for the old stuff, because once something happened to you; it's really difficult to experience the same feeling again. It's a little bit sad, even with stupid things. Things don't have the same feeling (good or bad) the second time. It doesn't cause frustration, but it causes nostalgia… wishing you had been there again. As you get older, you get wiser, but rather than take advantage of your new skills and opportunities to find new experiences, you look back instead.
Never and Phase to Face are very different songs… Is that just you not being able to commit to a certain genre?
I don't really commit. I just… I haven't heard of many people who release everything they make under the same name. I know a lot of people use one name for a specific style, and then use a pseudonym for any other types of releases. I don't care about that. Whatever I have that I think is good, I release. It shows a more human side of the artist. Everyone likes different things, and it shows different sides of my personality.
You haven't released a full-length album in a while, have you considered it? Do you have the time? 
I'd love to do that. It's just practical reasons. An album takes loads of time to make, and the last couple of years, I haven't had enough time to dedicate all at once to make an album, unfortunately. But, I'd love to. I mean… it doesn't make much sense business wise these days. It's more about constantly putting stuff out, and having you name out there as much as you can But I just haven't had time. I hope I can this summer, who knows; I've considered taking some time off. Because I love the  idea of an hour of music, that you can put on and just listen to, but it takes so long to create. An album is a journey, and it takes more thought.
Have you ever had any problems because of how tall you are [7ft.]?
*Laughing* I mean it's not very convenient in terms of sleeping. My feet always stick off the bed. I've pretty much gotten used to it now, but when I was a teenager I used to smash my head everywhere. Even if I had shit loads of money, I could never buy a super-car because they are too small, and I don't know, what else?? I tried to have a basketball career, but I didn't have the muscles for it, and you know, white men can't jump so… that was the end of that.
Who is your dream collaboration? And do you think you'll be trying to do more collaborations once you are in LA?
Yeah, hopefully. There are a few of the OWSLA boys that I'd like to work with. I really like Blood Diamond, I think he's a great talent. I'm very much a solitary person though, when it comes to music. I'm on of those people who's a studio rat and I just lock myself down and make music, but I also want to collaborate with a few other people. I think if I could choose anyone, it would probably be James Blake. I love his voice, and I love his production. I think he's one of the most talented producers all-around.
Do you just let yourself go, or do you have any particular directions that you want to head in with your music?
I pretty much just let myself go. I know what I can do, and I have specific techniques that I want to use, and techniques that I want to experiment with. Like on Identity Theft, I really wanted to play with reverbs, delay, and space. Something I didn't do very much before. It's really more about experimentation, than a direction. I just let out whatever comes out, and then I stop and figure out what I have, and then put it together. I just do whatever, within what I know I can and can't do.
Apart from LA do you have any big plans next year that you can share?
There's a bit of a European tour coming together at the moment, but I can't confirm anything yet. Hopefully Germany, France, UK, Italy, and a few gigs in the US as well. I'd like to get out a little more. It will be nice to tour because I haven't preformed since last year.
Phonat on:
Soundcloud | Twitter | Facebook | Beatport
Spring is coming, and it's sunny with a chance of,
^Xaos