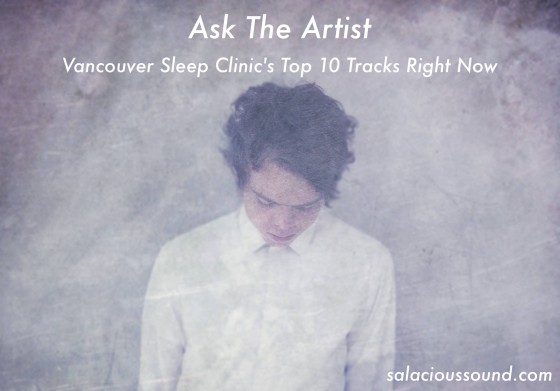 With the recent release of their latest single, Flaws, all eyes are on Brisbane trio Vancouver Sleep Clinic and front-man Tim Bettinson leading up to their debut EP, out March 10th. I've had the pleasure of speaking with Tim on numerous occasions so when the time came for me to start this new column, Ask The Artist, he was the first person that immediately came to mind.
This week, Vancouver Sleep Clinic are giving us some insight into their inspirations by letting us know what their top 10 tracks right now are. Enjoy, and head to their SoundCloud for more atmospheric vibes. Pre-order their EP here.
Vancouver Sleep Clinic on:
—–
10. Broods – Taking You There
I've been really into these guys lately, and this special song is my favourite off their EP. There's a mind-blowing beauty in the simplicity and stripped back electronic textures of this.
9. James Vincent McMorrow – Red Dust
The new album Post-Tropical is nothing short of amazing, and its tough to single out a favourite – but James' vocal display at the end of this just blows me away every time. Such a stunning song.
8. FKA Twigs – Water Me
This one's been hanging around for a while now but I'm continuously having obsessions with it. The sounds and creativity are brilliant, and there's such a strong yet subtle emotional element hidden in those vocals.

7. GOVS – I've Never Seen A Ghost
Bedroom projects are so humble and honest – and in my opinion GOVS is one of the best. Such a dreamy soundscape in this song, and that piano bridge takes me to another place every time.
6. This Will Destroy You – Threads
Although though this one is around 6 years old now, 'Threads' is probably my favourite instrumental song and is always a first resort on my sleeping playlist. All the feels, every emotion.
5. Hayden Calnin – Coward
Some brilliant homegrown Aussie talent here. I've been a fan of Hayden's for a while and his Oh, Hunter EP has me awestruck. Go listen to this through a good pair of headphones – you will not be disappointed.
4. OLIVER TANK – Last Night I Heard Everything In Slow Motion
The perfect song for a long train trip home on a rainy night. The vocal effect is awesome and those violins are just something else. Can't wait to see this guy live.
3. Ry X – Berlin
This one cuts me deep every time. So much beauty in something so simple. Also check out his other project, The Acid – everything he touches is gold.
2. MADE IN HEIGHTS – Murakami
Such a pretty song here. And that drop at 2:28, wow.
1. MTNS – Salvage
Another great Australian band here – this time from my hometown Brisbane. The production and vocals on this song (and the EP) are incredibly smooth. There are big things coming of for these guys! They are also incredible live – so make sure you go and check them out.