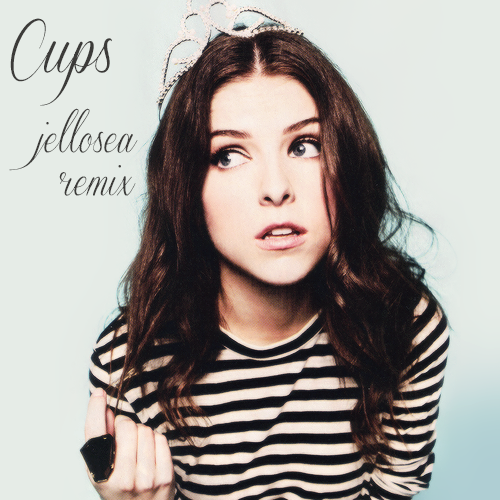 I was surfing through the Hype M popular charts the other day, and came across Jellosea's remix of "Cups" sung by Anna Kendrick, which is itself a cover of "You're Gonna Miss Me" by Lulu and the Lampshades. For those of you that aren't a 16 year old girl, Anna Kendrick is an actress probably best known for her roles in the Twilight movies. She landed starring role in Pitch Prefect, a teen movie about college girls in an acapella singing group, released earlier this year. The "Cups" name comes from the main instrument used in the song: a cup. The track is featured in the film during Kendrick's audition to get into the group, see it on YouTube here.
While the film highlighted the Lulu and the Lampshades track, in many ways Kendrick's version took the spotlight off them, especially once a full cover was produced along with music video starring Kendrick. Kendrick's video has over 40 million views at the time of writing and she even performed with a cup on Letterman. Lulu and the Lampshades also made a video for the original, but it never quite broke 5 million hits. Hollywood commercialism at it's best. See the original here.
At this point you might be asking why I'm talking to you about a teen movie star and her spolight-stealing musical cup skills. It's so you can fully appreciate Jellosea's originality in this remix. I confess, I saw the movie in theaters (I was on a date, it was cold, there was nothing else playing, shut up) and I still had NO IDEA where the tune came from until I looked it up. When I realized it was from this movie, I was blown away and decided to do a little digging on Jellosea.
Turns out, there isn't much to find. He has no website, no Facebook Page, and his Soundcloud only has two other tracks up. But he is a Toronto native, and was cool enough to email me back when I told him about this article. Though he does have a musical background from playing guitar in high school bands, homeboy has only been producing seriously for 2 months. If you listen closely, you can hear how he took the guitar licks from Kendrick's version and transcribed them to the synth in the remix. The track is a soulful, smooth, downtemo R&B remix with a command of mood that almost reminds you of The Weeknd. In other words, it's cool – nothing like the teenie-pop Kendrick version. His remix peaked at number 2 on the Hype M popular charts, beaten out only by Madeon's Technicolor. Not bad for 2 months of producing.
Jellosea is currently working on his debut EP and has some more remixes on the way. Definitely a local boy to watch.