After the release of Feel Real on Modular People, I was curious to find out more about the mysterious Australian band behind the hit single, Movement. A few calls to their publicist later and I was on Skype, face-to-face with one of their band members, Jesse, on a sunny Sydney morning. We talked about their origins, their phenomenal live sets, and – most importantly – what we can expect to hear from them in the future (such as the just-released Feel Real Remixes EP ft. Ta-Ku, Morgan Geiss, and Shadow Child).
Buy the Feel Real EP on Beatport | Listen to the set on SoundCloud
Give all these tracks a listen and I hope you enjoy learning about these guys as much as I did.
For all our readers that aren't familiar with Movement, how would you describe your sound to someone who hadn't heard Feel Real? Someone who had never heard you live before.
I'd probably say that it's reminiscent of the early 90s R&B sound. If you like soul and R&B, you'll like Feel Real.
Do you find that you're more influenced by American artists than Australian ones? I don't know much about the Australian R&B scene, haha.
We've always been big fans of Stevie Wonder and those sorts of acts from the states. I mean, that's where that whole scene evolved so that's obviously where the majority of our influences lie, but we've always had a lot of appreciation for Australian music as well.
I mean, to me you sound like Cut Copy meets laid-back, less poppy stuff… which is a good thing.
Haha, really? Well people are enjoying that track and I'm sure they find their own connotations as well.
How did the name Movement happen? Who decided that?
We were throwing around a few different names and we went through a whole bunch in the early stages. I mean, we've always believed that the music should define the name and not the other way around so to be honest, the actual band name wasn't that important to us. Really, we just wanted something simple that reflected what we were doing and 'Movement' just sparked so we went with it.
Can you talk a bit about your creative process? How did Feel Real come together?
Well we predominantly write in the late afternoon and the evening, that's when we're most inspired. Feel Real was written early one night – we'd actually been writing a bunch of tracks with very different vibes from our SoundCloud and we kind of took a risk with Feel Real since we had less experience with that style, but we went ahead with it because we all liked that type of music and enjoyed it the most. We wrote the whole thingl that night, gave it a clean r&b beat, then put a hook over top of it. At first, we didn't take it that seriously since it was so different from what we'd been doing up until then so now it's surreal to see it released officially and be sitting here, talking about it. Yeah… it was a good night, haha.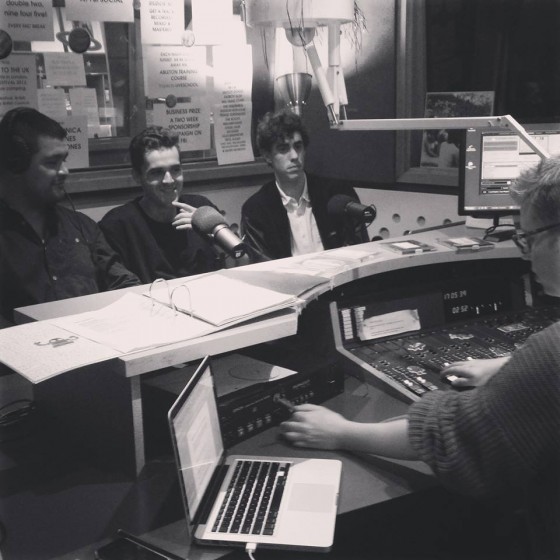 Do you think that the success that Feel Real has had has defined where you're going to take your sound?
I think the response that we got from it when we first started showing people definitely influenced us to explore that sound further, which was fortunate for us because we all really enjoyed making it and listening to that style of music.
When did you guys decide to start making music? Did you all make music independently before you met?
Yeah, we've all had musical upbringings. I come from a family that's been in "showbusiness" in the past and music has always surrounded my life. Sean played various instruments through high-school; we were best friends and always enjoyed writing together and sort of working out what we liked. All of us had this passion for soul and R&B. That's what we all enjoyed listening to so we went from there.
If you were to give yourselves boy band stereotypes, which would you each fall in to?
Haha, okay… hmmm. Lewis is definitely The Quiet One, he's more soulful with his ways and his personality. Sean is a bit more of an extrovert, but he's also extremely passionate so I suppose he'd be the… whatever you call it, haha. As far as stereotypes go it's hard to pin everyone down. Yeah, Sean's The Party One. Myself… I'm The One in the Middle of the Road, haha. Deep thinking… I'll probably regret my answer to this question, but I guess that's what I am.
Now, how did the three of you meet?
Well Sean and I went to high-school together and we met Lewis a few years after highschool through mutual friends. We wrote Feel Real together and liked how it turned out, that style of music, so we decided to write more stuff as a band.
So you formed very recently?
Well yes and no. We wrote Feel Real over a year ago and we've been writing off and on for a while, but we didn't get serious with the project until recently.
Do each of you fall into specific roles in the band or do you all share responsibilities?
We're pretty diplomatic in our approach as far as the roles go, but of course we like to play to our strengths. Predominantly the way that its worked in the past has been with Sean actually producing the track on Ableton, making sure the recording process is the way that it's supposed to, and Lewis and I are doing the actual writing of the chords and melodies and stuff. I write most of the lyrics and Lewis will take it and turn it into a melody and then we see where the track goes.
What's your live setup like? Is it very different from your production setup?
Well the difference between Feel Real and the stuff that we've done recently is that we wrote Feel Real as a track, just as a track. We didn't think that anyone would want to hear it live, but it turns out that people to, haha. So we've learned how to play that track live. Our current setup is Lewis singing and playing live keys, I do backup vocals and play various instruments, and Sean is in the back with all sorts of synths and samplers at the back. If there are any weird sounds that we've written into a track we'll always try to replicate it live – like if we produce a track to have steel drums we'll have steel drums on stage. We want things to be as real as possible.
People definitely appreciate acts that can do a real live set. I always get a little disappointed when I go to see a musician, hoping to see them actually play and it turns out to just be a DJ set.
Absolutely, and that's one of the main hang-ups in our production: we're committed to playing live. I mean, Stevie Wonder and all the acts that we draw inspiration from – they werent' DJing, haha. So we're always in the mindset that no matter what we produce, we'll find a way to play it live even if it takes five or six months to learn. Plus we have Lewis' amazing voice that we can only really do justice if it's live. The dynamic of the song might be different live, but we really commit to being able to actually play it.
That's amazing. Yeah, even with a different vibe the audience definitely respects that. For example, when you see Ratatat live it's nothing like their albums. It's just two guys rocking out and it's incredible.
Now how did you guys get involved with Modular People? Did you shop the demo to them or were you involved before Feel Real happened?
Well we put Feel Real out in demo form shortly after writing it and we had a lot of different people approaching us for a lot of different reasons, but Sean and I are long-time fans of Modular People and what they've done for the music scene in Australia so when the owner of Modular approached us we were pretty excited to say the least.
Do you have any upcoming projects that you can talk about? What can we expect to see from movement in the next few months?
Well we have a remix bundle for Feel Real available now, with remixes from Ta-Ku and Morgan Geiss and Shadow Child. As far as what we're doing as Movement we're doing a few shows and really solidifying what we want to release in the future. In the next two or three months we're not planning on releasing anything, but there'll definitely be a new single by the end of the year.
Buy the Feel Real EP on Beatport
Movement on:
SoundCloud | Facebook | Twitter | Their Website