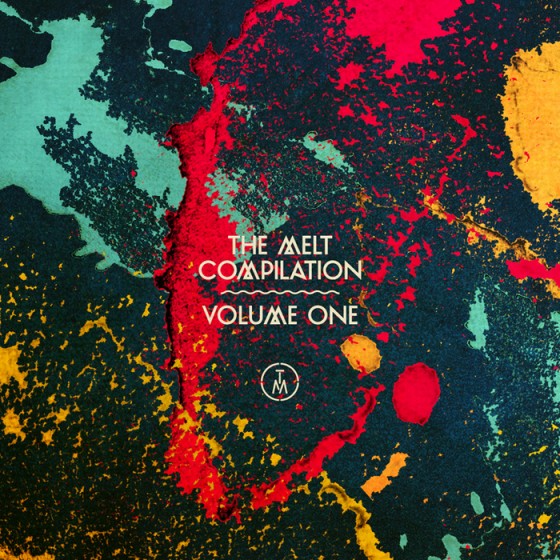 I love a good compilation, don't you? Just over a month ago, TeamSupreme unleashed their magnificent Collection 1 and now, a like-minded collective known as The Melt is doing TS one better by releasing the 19-track "Compilation Vol. 1" for free! Stylistically, these two compilations share a lot in common; both dabble heavily in left-field trap, both feature contributions from Djemba Djemba, FuzZ, Kloud, Snorlax & Colta and both are unquestionably indebted to the L.A. beat scene. It shouldn't come as a surprise, then, that The Melt is: "a forward-thinking music collective, blog and club night based out of Los Angeles, California, showcasing up and coming musicians from all over the globe"  (via Facebook).
"Compilation 1 Vol. 1" features tracks from The Melt's five residents: Djemba Djemba, FuzZ, Snorlax, Gossamer, Kloud and Moiety as well as an assortment of international producers, Toronto's Deebs being one of them. Despite the geographical separation, all of the artists on the album share a predilection for the style of instrumental hip-hop championed by J Dilla and 9th Wonder, being preserved today by artists such as Flying Lotus and Daedelus.
The Melt compilation presents to us the new-school disciples of the aforementioned artists. Djemba Djemba, Deebs, Snorlax, Obey City, and etc. . . these are next-gen producers pushing instrumental hip-hop into uncharted territory. Building off of the groundwork laid by their forefathers, they draw on an array of distinct genres, most notably, southern trap, Chicago juke, and UK bass. Globalization and the rapid growth of technology in this day and age have made this sort of  melting-pot music possible and popular. Electronic music in particular, is ever-expanding in its scope and creativity thanks to collectives like The Melt and their open-minded attitude towards music.
Okay, it's time to get down to specifics. From here on out, I am going to briefly outline my five favourite tracks from "Compilation Vol. 1" starting with Deebs' album opener "Alibi". The Toronto native commences the album right proper with a gorgeous harp sample, flourishing piano plinks and running water sound effects that promptly lead in to 808 snare hits and a deep but melodious synth line. Ryan Hemsworth would approve.
Wondr's luxurious downtempo house jam "Bolex" stands at the halfway mark of "Compilation 1, Vol. 1" acting as a  grounding point amongst all the weirdo footwork and trap. Not that I don't appreciate eccentricity but sometimes, it's nice to sit back, take a deep breath and listen a simple, chill-out tune like "Bolex".
"Swimming" might just be my favourite track on this compilation. I have not heard of Agendas until now but damn, this guy (or girl?) is good. . .real good. Funky synths, classic hip-hop stylings, and ultra-polished production; this track simply could not get any better.
I didn't even have to listen to this track to know it would be one of my favs. Djemba Djemba is at the top of his game right now and it seems he is incapable of even the slightest mis-step. The awesomely titled "Stahp" sees Djemba continue his streak of flawless productions with a pan-flute trap banger. Didn't think you'd ever see pan-flute and banger in the same sentence, did you? This is real avant-garde s**t.
In an alternate universe where Kendrick Lamar is a footwork DJ rather than a rapper, "Ceremonies" would be "Swimming Pools (Drank)". I suppose that would make Kloud a rapper but no matter, we're not in an alternate universe, we're in a regular universe where Kloud is a masterful electronic producer. He certainly proves it on "Ceremonies" by merging juke rhythms with footwork patterns, pitch-shifted vocal refrains and ethereal soundscapes. Now, that's a universe-altering achievement.
Thanks for reading my review of The Melt's "Compilation, Vol. 1". You can stream the entire album below and/or download it for free from Bandcamp. Until next time. . . .
The Melt on:
Facebook | Soundcloud | Twitter
//totem.