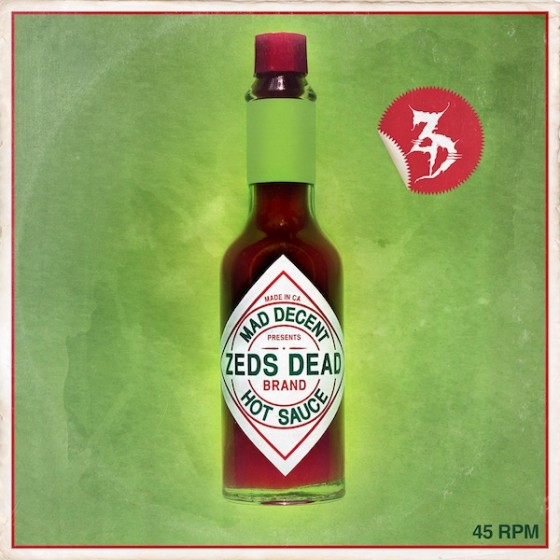 Eureka! New sounds from the local homies DC & Hooks, better known as Zeds Dead. The 'Hot Sauce' EP was released today on Mad Decent and let me tell you, it's an eclectic affair. You wouldn't guess it, but, the duo have traded in their characteristic musical style, namely, dubstep, for a melting pot of genres including: house, breakbeat, glitch, and tribal. Zeds Dead have always been versatile but 'Hot Sauce' feels like the first time these guys really let their true colours show.
Oddly enough, not a single trap tune shows up on the EP. Depending on the person, this will either come as a surprise, disappointment or relief. In my case, it's somewhat of  a relief, considering the constant influx of trap songs appearing on my Soundcloud stream every day. That's not to say I have a problem with trap, it's just nice to have a break from it once in a while. Apparently, this is a sentiment shared by Zeds Dead as they recently tweeted: "I fuck with trap, there's no trap on our new EP though. If you NEED to classify some of the songs just make something up". To be quite frank, that is exactly what I will be doing over the course of the next few paragraphs in my attempt to describe the 'Hot Sauce' EP.
The EP begins with "Demons"; an off-kilter, glitch-y, bass wobbling ode to horror films. The track comes complete with an eerie, Halloween-esque piano line and an archival sample presumably from an old 70's horror film. "Demons" is certainly an interesting starting point for the EP but by no means is it one of the more memorable tracks. I'm not convinced it was the best choice for the lead-off spot, "Rave" would have probably served that role better in my opinion. However, being one of the more bass and glitch-heavy tracks on the EP, "Demons" does do a good job of transitioning from the glitch-hop of last year's Victor EP to the more diverse range of styles that appear on 'Hot Sauce'.
Enter track number two, "Mr. Sub", a deep, tribal jam that pays homage to the Canadian fast-food chain, or, Subway's ugly little brother. So, as the theme moves from horror movies to sub sandwiches so too does the musical style. Not quite house, techno or juke, "Mr. Sub" is an enrapturing amalgamation of the aforementioned genres. Pairing a swift, thumping beat with space-y synth stabs and shuffling tribal rhythms, Zeds Dead really tweak the direction of the EP on "Mr. Sub". Subsequently, "Playa" ups the ante, setting the tone for the exceptional latter half of the EP.
EP centrepiece "Playa" feels like the first real stand-out track from the album with its strange dabblings in ride cymbal percussion, hip-hop vocal samples, siren synths and pseudo-moombah tom rhythms. It's what I would call a subtle banger (I said I would be making things up, remember?). Following "Playa" is "Rave", my personal favourite track on 'Hot Sauce'. "Rave" sees Zeds Dead trying their hand at breaks and oh boy, do they do it well. Opening with distant, reverberating synth pulses and seguing into jungle-esque drum patterns, "Rave" builds magnificently until the one minute mark when it promptly dives into full-on breakbeat. Not only is this track well-produced, unique, and attention-grabbing, it also hints at a resuscitation of the authentic 'rave' sound established in the UK during the 90's. Perhaps titling a jungle throwback "Rave" was Zeds Dead way of saying "f**k you" to all of the EDM neo-rave, 'bro-steppers'.
That brings us to the last track on the album, "Trouble". Built around a sentimental piano loop and a stuttering drum beat, "Trouble" returns to the style of glitch-hop Zeds Dead championed on the 'Victor' EP. Although, it is certainly a nice closing track, it is apparent that a linx (*cough*Omar*cough*) is missing from "Trouble". Oh well, we can't get everything we want, can we? In its entirety, the "Hot Sauce" EP is an invigorating listen and an exciting venture for the Torontonian duo. I find it easy to overlook Zeds Dead's minor missteps on this EP when considering the daring and ambition that went into their production. The 'Hot Sauce' EP is a refreshing and innovative electronic release, something that is much needed in the current state of North American electronic music.
Purchase the 'Hot Sauce' EP from the following outlets:
– totem.