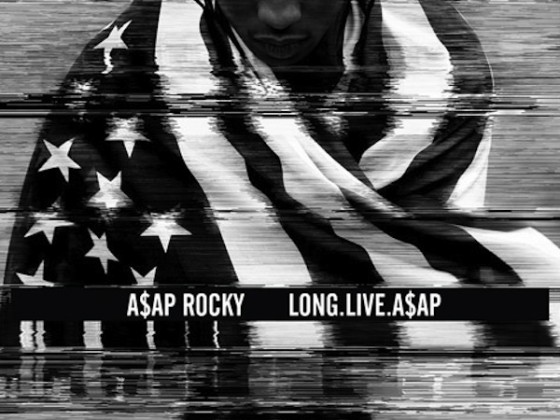 What bumpy yet successful road its been for Rocky thus far. His debut mixtape, 'LIVE.LOVE,A$AP', garnered world wide acclaim and a multi million dollar deal with Sony. Some argued he didn't deserve all the attention from just one mixtape, some often said that he would be nothing but an average rapper if it wasn't for his excellent beat selection. No matter if you loved him or hated him, he grabbed your attention. Throughout 2012 he appeared on a number of singles, including ones with School Boy-Q and Lana Del Ray. He even appeared on the cover of fashion magazines, but as the year went on his album kept getting pushed back – it was originally planned on being released July 4th. After numerous set backs a final date was announced, January 15th 2013. Almost an entire month before release, 'LONG.LIVE.A$AP' was leaked.
While Rocky might not be an impressive lyricist, it's his flow and charisma that hooks you in. He combines east coast boom-bap with southern chop and screwed with compelling results. The opening title track features a very ethereal beat that instantly pulls you in. Following next is the albums first single 'Goldie'. While 'Goldie' was released all the way back in April, it still is a fantastic track and fits this album perfectly. Rocky's flow is catchy and cocky. On the title track Rocky glides through an ethereal beat with a hook that features him singing. Following the title track is the first single 'Goldie'. While 'Goldie' came out almost a year ago, it still is such a great a song that fits as a "package" on the album. Produced by Hit-Boy, 'Goldie' is one of the best on the album. 'P.M.W.' and 'LVL' are next and are steady and catchy. 'P.M.W.' features frequent collaborator Schoolboy-Q. 'LVL' is the third solo track on the album. Here Rocky shows off a little bit, combining numerous flows against a beat produced by Clams Casino.
The second half of the album starts off with 'Hell' featuring Santigold, and 'Pain' featuring Overdose . While these two track are the most lackluster on the album, its nice to see Rocky explore out of his comfort zone. The momentum picks up again with 'Fucking Problems' featuring Drake, 2chainz, and Kendrick Lamar. 'Fucking Problems' is easily the most radio friendly song on the album and offers frequent replays. 'Wild For the Night' showcases Rocky spitting over a beat remixed by Skrillex. 'Wild For the Night' is a party starter and shows that Rocky can spit fast. '1Train' might be the best song on the album. It features Kendrick Lamar, Joey Bada$$, Yelawolf, Danny Brown, Action Bronson, and Big KRIT. Each artist does a throws down a verse that holds its own. 'Fashion Killa' may feature some lack luster lyrical content, its the beat that draws you in. Things get personal on 'Phoenix'. Rocky opens up and touches on topics such as death and god. 'Phoenix' humanizes Rocky. The album ends 'Suddenly'. This track is slow at pace and almost loses your attention till the end when the beat switches up. A few tracks on the special edition could have been a better album closer, but the twelve tracks here offer enough variety for everyone.

Rocky has made a piece of art. While a few tracks are radio friendly, the overall package is phenomenal; he has complete control artistically and it shows. 2013 is going to be a great year for Hip-Hop and Rocky kicked it off right!
– Fillipo