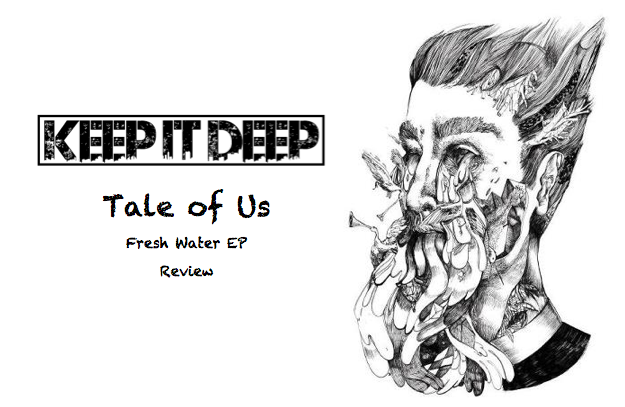 In Keep it Deep's second showcase we are looking at Tale of Us and their latest release:
Italian duo Tale of Us and German duo The/Das recently released their heavily anticipated Fresh Water EP. Containing three extraordinary tracks they take you on journey that goes beyond the genre and takes you into a realm that Tale of Us knows too well.
It begins with Fresh Water. A track that hits any dancefloor its presented upon like a monsoon. The mixture of a clean, expansive bass and those mystifying synths leaves you swaying effortlessly as they bounce within your conscious. The hauntingly intense vocals fill you up and stick with you like a pillow as you wake on a cold rainy morning.
Life and Death is an applause to the label as veterans Clockwork and Tale of Us surround the emotionally stirring voice of The/Das' Fabian Fenk. The eeriness is maintained as the bass line pushes while the synths soothe. It drags you slowly from the depths of its precursor as the guitar plucks you into a march and the piano wafts into the mix every now and again to command your attention. A bit more energy with this one.
Ending the journey, Tale of Us add their own take on The/Das' Keep This. Beginning with a far more atmospheric set of percussion and pads they add the kick before the bass, leaving you to the whims of the winds. A lot more energy invoked by the brighter bass line and the addition of a more dynamic set of percussion/synths. Definitely the brightest song on the EP.
Overall the EP further cements Tale of Us as innovators within the dance scene while bringing The/Das closer to becoming a household name. As you move from one song to the next it gets brighter and brighter but retains the natural and minimal feeling sounds within all three. Absolutely loved each track individually but to really dive into the mental groove Tale of Us and The/Das were assuredly aiming to create, you must listen to them as a trio.
More from Keep it Deep soon…