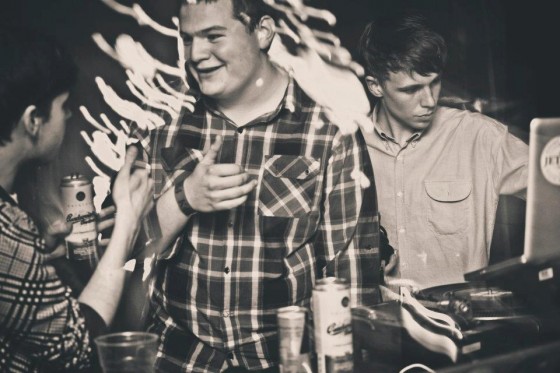 On the evening of December 8, 2012 I had a chance to sit down with the cheeky lads of Bondax before their first show ever in Toronto at The Drake Hotel. The dynamic duo, Adam Kaye and George Townsend, have been been taking the Blogosphere by storm with their delicately produced and melodically beautiful garage sound. Bondax's late night soulful sound and slick sophisticated production had Torontonians in a trance as the duo took turns spinning and driving the crowd mad.
Prior to the show I sat down with them in their hotel suite for an intimate interview – just us and the mini-bar. After a couple of laughs I asked the lads of Bondax some serious and some not-so-serious questions:
As Garage is well known for  originating from London and you guys hail from Lancaster, do you feel your home town played a role in crafting your sound?
George: I would not say in terms of "Garage" , because Garage is quite a London thing that we didn't really know anything about when we started. So in that sense no, but it did in the sense that we were trying to make soft, new melodic house music which is essentially Garage is. So then we found out about garage through our own music and it has helped develop our sound, but it didn't help start it.
Adam: Yeah, it was after the fact. We were too young to remember garage really. I used to just think Craig David was awful, and the I would just never listen to him, But then i listened to him again and found he was awesome.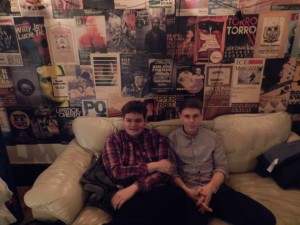 How would you describe being English to your Canadian fans?
Adam: We have the same queen.
George: It's really difficult, because we have never been to Canada before right now. I don't know, I'd say its probably a good thing right now at the moment. Cause we are coming in with quite fresh ideas. I think the UK, without sounding like we are a bit up our own arses, we are kind of at the front of electronic music for our sort of thing right now. With Disclosure and Karma Kid and artists like that, in that sense we are really lucky, it's good to be english right now. It's great to come here and see people enjoying our music in another country, because you sort of expect it in England.
Adam: You sort of forget that its a global thing, and its cool when you come to america and see how the sound is still liked and people really enjoy it. It's really cool.
If you had to sell living in Lancaster, what would your pitch be?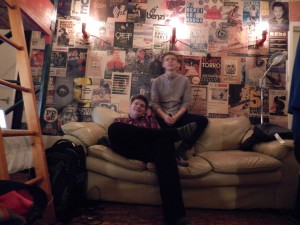 Adam: There's no selling point really.
George: By day it's really pretty. It's old and quite classically English. So that's a good thing, it's also sort of near the lake district, which  is great. I love the lake district, there's loads of mountains, woods, and lake obviously. It's really cool, and also Lancaster is near loads of cities, it's like an hour from everything. It's not too bad generally, but at night there's really just nothing there, there is no music. But that isn't really selling it is it.
Adam: It's really nice in the day like george said, and the people are lovely. It's nice, we don't actually live in Lancaster, we just say that because it's a bit easier, we live in small towns outside. The population in my town is 3,000 and George's is even smaller.
George: I live on top of a hill, no one lives there.
Adam: There is literally a moor, and then George's house is right on top. So it's good for making music because its secluded and we don't have distractions.
George: Going back to the previous question, I reckon the fact that we are from a small town that's why we were not really affected. It's what makes our sound so pure. Even though now fashion has obviously affected us, back then we didn't really know about any fashions. Making music was never really about trying to be cool. Back home, our music was never cool when we started, we were never cool for making music.
Adam: It was like we were uncool for making music. It's not cool, it was like, oh "they're twang".
George: we watched the people change with us, like when we got more popular. People were going from "you're idiots for doing this" to "will you get me on the guest list for this".  It was really interesting.
If Bondax were in the English dictionary, what would be it's definition and how would you use it in a sentence?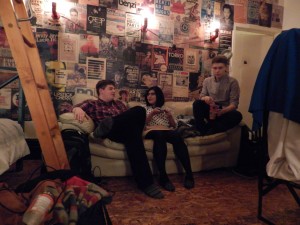 Adam: "Having a Bondax"
George: No, it would be that drinkify thing. Basically drinkify is a website where you type in an artist name and then it gives you the drink for it. So I reckon if we created it, we would just put that drink as the definition of our sound. Which is like a whiskey, thats it, we would just put 'Smooth whiskey, thats Bondax".
Adam: Aged, whiskey garnished with an olive.
There are clear influences of various genres in your music, what elements in particular would you say makes up what you both refer to as your unique "new garage sound"?
George: I'd say that we are obviously influenced by jamie xx and mount kimbie, that whole side of the UK sound affected us. Aside from that it was very much a musical experimentation. It's Adam's chords, and my production thats our music, I wouldn't know what further to say because we didn't have an understanding of electronic music when we began. We listened to Indie music and hip hop.
Adam: We still listen to it, its just not at the forefront right now. We listen to soul music now and that had a bit of an influence.
What sort of traits did you each bring to Bondax and how did you learn to compliment each others strengths and unique influences?
George: That's a very complex question for something that is quite simple, which is we both just had different tastes and we were both best mates. So we both just put both of our tastes and our skills together and it ended up being this. There was not any aim when we started so it was really just an experimentation. Adam really has some beautiful melodic ideas. There was no conflict really, it was quite easy.
Adam: George is a way better producer than I am, he's been doing it way longer. That is complimented by the fact that I play alot of instruments and its just the combination of all that.
What excites you about creating new tracks?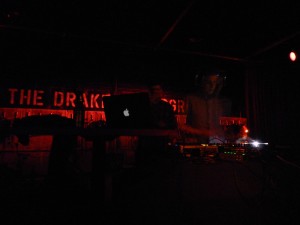 George: I just love making music
Adam: We have always really liked to switch it up with our tracks.
George: Most of the time it is about creating something that makes us feel something, and that can be done through making dance music. There are so many dance tracks that make me feel amazing and I sort of feel that people don't think about that enough. People think that if it's going to be emotional that it has to be something really beautiful and the lyrics have to mean something. I really like the idea that you can just take feelings in without given any words.
What sort of new elements/instrumentation are you excited to incorporate to the garage genre?
Adam: Like we previously said, we have been really inspired lately by soul and have been trying to incorporate that into our tracks by slowing them down and switching it up. Also trying to put in elements of R&B and soul in a really different way, not just sampling R&B vocals.
How would you describe your set-up during a live show – who does what?
Adam: We just DJ at the moment. Like George Plays and I stand in the back, hyping.
George: It's just back to back DJing so it's not overly complicated. It's not very complicated, we are working on our live show right now, hopefully we will be a band around this time next year. If you get to interview us again this time next year we will have a much better answer.
Do you have any superstitions or rituals before a show?
George: Sometimes I pray. I believe in God so, sometimes I pray but, most of the time we just have some beers. We are normally on a train and then have to get off and go straight to the gig. We don't normally have the chance to touch Farrah's photo or chant.
Adam: Not Really. Yeah just have some beers, and try and get some hype somehow. Listen to some good music while in the hotel. Play some GTA. Or have huddles.
George: Sometimes we hug, or have some high fives.
Being new to touring what festivals do you hope to play, and what countries would you want to tour/visit?
George: Australia and Tokyo, Japan. But we know no one likes our music in Tokyo. I think when you know you can't get something you want it more, so I think thats really why I want to go to Tokyo.
Adam: We'll just start playing Gangam Style. That's really going  be the new Bondax direction from right now on. We both like South America as well, so to travel there would be cool.
Finally, a lot of people ask if the name "Bondax" has anything to do with bondage, so if Bondax were a fetish or sexual act what would it be?
George: Well that's a very nice questions. We would hope it would be something very intimate and nice.
Adam: Apple in mouth and gimps.
George:  Something you hopefully wouldn't do to a random girl. Um I don't really know.
Adam: I think it would be like three people strapped together, like human centipede style. With a guy like pouring maple syrup over it, but then they were all holding roses all quite romantic.
It's not often that you find artists who are able to express themselves with such grace and genuine
charisma like the lads of Bondax. We wish them all the best while on their conquest of North America. For more on Bondax click the links provided
below.
Bondax on: SoundCloud – Facebook – Twitter
– Melissa