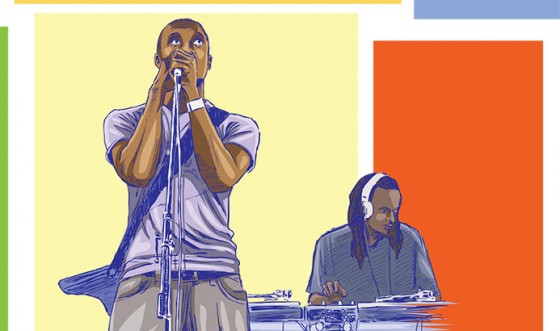 Hip Hop has reached new levels of popularity. But that doesn't mean it's all good. The Listener's Guide to Hip Hop is a weekly column devoted to bringing you only the best, from independent and underground to the worthwhile pop and instrumental. We'll show you how to get the most out of your hip hop every week right here at the Listener's Guide to Hip Hop.
A SONG
Lucky for you, this week I've got two you should hear.
First, Rhymesayers artist Toki Wright released this track below. 'Let Me Live' is a short soulful little diddy produced by The Commission. If you're unfamiliar, it's a nice introduction to Toki Wright, and you can download it right here.
Second, here's a little preview of the soundtrack for Quentin Tarantino's new movie 'The Man With The Iron Fists.' This isn't the first time Tarantino has featured underground hip hop in his movies (See Kill Bill & The RZA), but this Talib Kweli track 'Get Your Way' featuring Res is getting me pretty excited for this new flick, not to mention the soundtrack. Check it out right here.
An ALBUM
Thank god for our friends at Odd Future for releasing an album worth buying this week. And yes, that may, or may not, be a dig at the rest of this week's releases. That's for you to determine.
The OF duo Mellowhype released their third studio album this week entitled 'Numbers.' Plenty of solid tracks on this record, including the previously released 'La Bonita' and 'Astro' which features Frank Ocean, which you can listen to right here.
I'm still absorbing the album, but so far I'm very impressed. It presents what we've come to expect from OF: a roller coaster of eccentric beats and hype lyrics, with a few dips into the more soulful rhythms of hip hop.
It's out now on iTunes, or wherever you buy music. And if you're not convinced, it's already on Spotify.
A VIDEO
Strange Famous Records just released the video for 'Graveyard Shift' by the Metermaids, produced by the legendary 9th Wonder. It borders on perfection, so I won't say much. You can just watch it for yourself here.
SOME NEWS
Finally, indie hip hop renaissance man Blueprint finally released the full list of tour dates for his upcoming tour in support of his new album, 'Deleted Scenes' and book, Word is Blog Vol. 1. The tour, very midwest heavy, hits both coasts and even hits up some Canadian cities. For more info check out his website here.
//Moniker