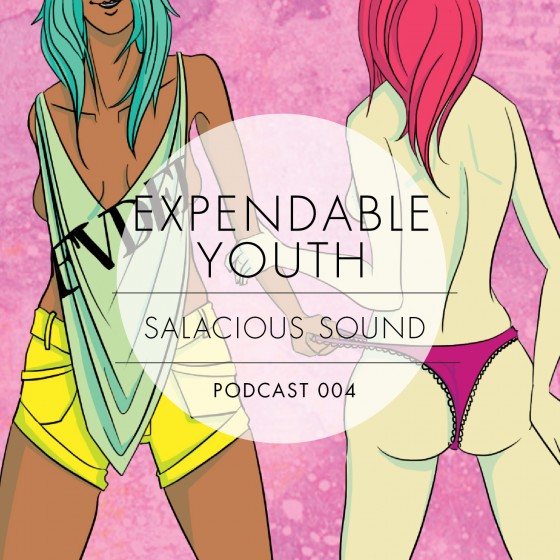 The SalaciousSound Podcast is a weekly curated mix series highlighting talented producers across the electronic and dance music spectrum, with a focus on emerging talents and sounds.
This week on the SalaciousSound Podcast we're proud to present a mix by Vancouver's Expendable Youth. We've talked a lot about Trap this week – our most popular article was an editorial by Ziad on "EDM-Trap" and related controversy surrounding one of the flavours of the moment.
Rather than devote a lot of space here to that which is covered so well in the aforementioned article, I just want to say that I was delighted to hear an impressive variety of selections on our mix for this week. Expendable Youth has expertly blended "real Trap shit" with some odd and perhaps surprising dance music influences which have been picked up as of late by a few producers at the forefront of EDM-Trap. Most commendably, Expendable Youth has even thrown his unique spin on something we thought wouldn't have much variation at all: his voice-over introduction. Curious? Hit 'Play' and you'll find out.
If you have thoughts about the mix, sound off in the comments or forever hold your peace.
[wpaudio dl="true" url="http://salacioussound.com/podcast/SalaciousSound_Podcast_-_Episode_004_-_Expendable_Youth.mp3″ text="SalaciousSound Podcast – Episode 004 – Expendable Youth"]
Expendable Youth on: 
Soundcloud | Facebook | Twitter
Tracklist:
SPACEGHOSTPURRP+-+BLACK+SWAMP (Note: VERY RARE BEAT)
Flosstradamus – ITH (ft. Tuneboy & DJ Isaac)
LOUDPVCK – ZIPLOC
Gucci Mane – Servin
Mark with A K – Break Your Back (Gave Remix)
Caffeine vs Baauer vs Bootleggers – Bitches & Hoes In My Nose
Gave & Bestien – Juke That Girl
The Boys Club – Ravin
Waka Flocka Flame – Lurkin
Expendable Youth & CRNKN – GUNFIYAH
Major Lazer – Get Free (Davoodi Remix)
– Cal