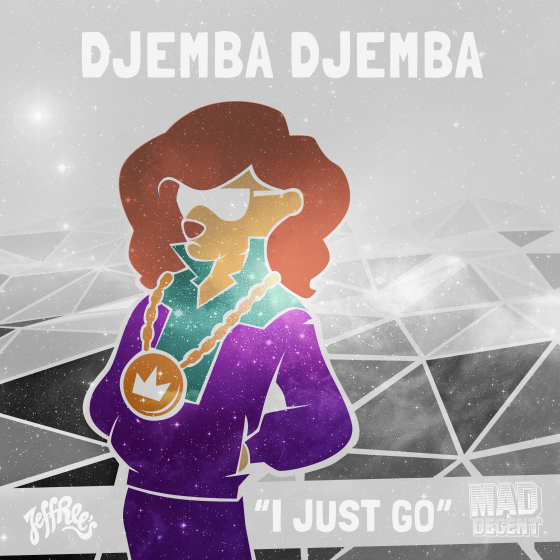 I've been waiting to do this Introducing for a long time, and with his Jeffree's release just around the corner I thought that today would be the perfect time to talk about one of my favourite up-and-coming producers, Djemba Djemba (pronounced: jem-bah jem-bah). Hailing from East Los Angeles, Djemba Djemba has immersed himself deeply in production culture with his long-standing contributions to beat cypher, Team Supreme. Essentially, what he and a collection of other artists do is flip a sample that they're all given. In one of my favourites, Vol. 11, they all flipped a set of samples given to them by producer Nalepa and the result is an extremely creative, coherent mixtape of sorts. But I digress…
Djemba Djemba and I linked up over Skype recently to talk about his upcoming release on Jeffree's, I Just Go. Since I'm in Vancouver and he's visiting Eastern Europe, the 9 hour time difference made finding the right time to talk a delicate balance between my recovering in time from the night before and his pre-drinking for the night ahead. I'm going to skip the groggy small-talk and get right to the action:
So, what's your Jeffree's release called? Can you talk a bit about it?
Well the EP is called I Just Go. It's two original tracks, I Just Go and Oh Okay Yeah That's Cool.
How did the whole Jeffree's deal go down? Did you have to blow someone in a back alley, or…
Haha, no. I actually work with Paul [Devro] and Diplo and I'd asked Paul way back in March if I could do a release. They told me to let them know when I was ready and by mid-summer I had it all good to go. Yes, I know I take a while to finish tracks, that's how I operate, haha.
And what was the creative process behind the release? Did you have an idea what you were going to do before it happened?
Oh, not at all. I Just Go is a 170bpm experimentation with footwork that sort of developed because of this party that me and the Team Supreme guys throw in LA, The Melt. Basically I was trying to outdo a friend of mine that was going to be playing and I Just Go was the result. The second track, Oh Okay Yeah That's Cool is an extension of my piece in Team Supreme vol. 10 (you can hear it at 13:00). I liked how it turned out so much that I just had to work on it more.
What do you use to produce? Since you're in LA do you have access to some huge studio?
My setup is super simple actually. I have Ableton Live with a bunch of plugins and sound effects (inherited from a past position I had at an old company), a midi keyboard, and good monitors (also inherited, haha). You know, I work hard for everything I have and I don't have money to throw around at brand-new equipment like a lot of people do, but my setup works well.
Final question and one I'm sure people are going to be curious about after listening to your tracks: Who are your biggest musical influences?
If I had to narrow it down…. MachineDrum, Hudson Mohawke, Rustie, and 90's Era New Jack Swing. I'm not sure if you can pick all of them up in my music, but those are my inspirations.
That's all for now folk, if you want to hear Djemba Djemba's release on Jeffree's you have to wait until Thursday, Sept. 13th. You'll be able to download it on the official Mad Decent Jeffree's Tumblr. Finally, I have two treats for everyone that's made it this far. The first is Djemba Djemba's Summer Fantasies Mix, which I've been listening to consistently for the past two months. The second is an exclusive track, Rasha, just for the Salacious Sound readers. Enjoy, and au revoir!
 Djemba Djemba on:
Sound Cloud – Facebook – Twitter
– Ziad